External Affairs Minister Swaraj welcomes PM Deuba in India; NC senior leader Nidhi assigned Acting President of party
August 23, 2017 | 5:11 pm&nbsp&nbsp&nbsp&nbsp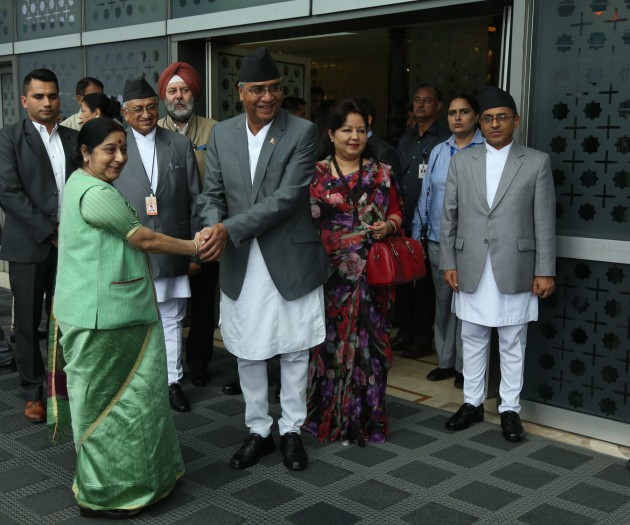 Kathmandu / Aug. 23: Indian External Minister Sushma Swaraj has received Prime Minister Sher Bahadur Deuba at Indira Gandhi International Airport, New Delhi.
Nepal's Ambassador to India Deep Kumar Upadhyay, Indian Ambassador Manjeev Singh Puri had reached the airport to welcome Deuba.
Deuba has flown to India today, leading a 48-member deligation, on a five-day state visit at the coordial invitation of Indian Prime Minister Narendra Modi.
According to a source at the Ministry of Foreign Affairs, Prime Minister Deuba along with other dignitaries including his spouse Dr Arzu Deuba accompanying him is scheduled to stay at the Office of the President of India tonight.
Deuba will meet with Nepali community at the Nepali Embassy in India this afternoon. He is scheduled to hold talks with the Indian entrepreneurs today itself in a bid to bring in investment to Nepal.
Deuba will visit Indian authorities on Thursday.
NC senior leader Nidhi assigned Acting President of party
Meanwhile, Prime Minister and Nepali Congress President Sher Bahadur Deuba has assigned the former Secretary General of NC and central committee member Bimalendra Nidhi as the Acting President of the party in his absence.
PM Deuba left here for Indian capital of New Delhi today in a five-day state visit at the cordial invitation of his Indian counterpart Narendra Modi.Deuba has authorised Nidhi to take charge of the party until his return from southern neighbour on 27 August, according to NC's Chief Secretary Krisha Prasad Poudel.
Similarly, NC President Deuba nominated Hari Prasad Nepal (Palpa), Radhechandar Yadav (Bara) and Amrit Aryal (Morang) and Dhyan Govind Ranjit (Kathmandu) as the central members of the party as per the Article 21 of NC Statute-2017 (Amended).
Prior to his departure to India, PM Deuba also formed a disciplinary committee after a decision of the NC Central Working Committee.
The Committee formed in coordination of NC central member Ramesh Rijal comprises Umakanta Chaudhary, Kamala Pant, Surendra Raj Pandey, Hridaya Ram Thani. RSS