Jumla women celebrate Teej against Chhaupadi
August 23, 2017 | 5:11 pm&nbsp&nbsp&nbsp&nbsp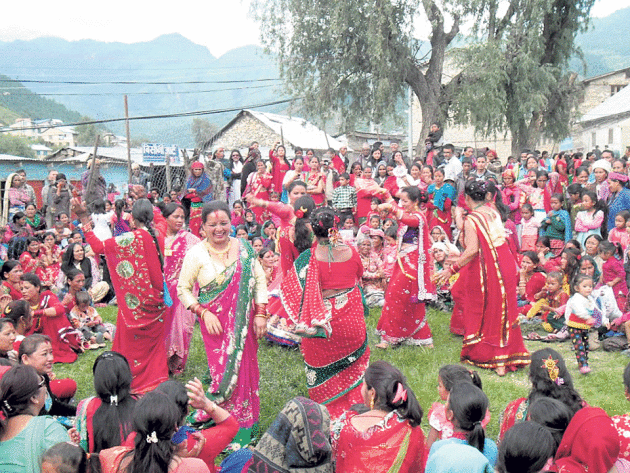 DB Buda, Jumla / Aug. 23: Bimala Rawat, a resident of Tila -1, Jumla danced gracefully on the occasion of Teej last year on a recorded song.
Although her dance had rhythm, it didn't relate to the song by any means. However, there was a crowd present to witness her dance. She acknowledged the lack of sync between romantic music and Teej dance and also mentioned how she wanted this Teej to have some meaning.
Her thoughts were put into action when Bimala danced to songs against Chaupadi on Tuesday. She said that Chaupadi was a deep-rooted problem in the Mid-western and Far-western regions, including Karnali zone, and the custom should be eradicated. Tila residents decided to spread awareness against Chaupadi by dancing to songs based on the custom.
Another resident of Tila-1, Chaiti Budha, was elated to have the opportunity. She appreciated the music made by their colleagues and mentioned how the lack of efforts from the general public was causing the prevalence of Chaupadi. She also shared her plan to aware the people that had gathered to watch the dance about the consequences of Chaupadi, and how important it is to uproot this tradition.
Instead of celebrating Teej for fun, the locals of Tila gathered to spread awareness against Chaupadi through entertainment. They made songs about the adverse health effects of Chaupadi on women and demanded the implementation of the Chaupadi Elimination Directive-2064.
Chaiti said the government should strictly implement the law against Chaupadi and take stringent actions against the perpetrators. She added that the healers, shamans and older generation in villages should be first made aware about the law, and that awareness should be spread in an understandable language.
Women from the village claim to have made their own authentic music this Teej instead of copying it from elsewhere. "Instead of playing just entertainment songs and dancing to them, it is for the best that we send a message through music," said activist Bishnu Budha, adding, "Playing local and authentic music will rather improve and promote our art and culture."
The women also included songs related to violence against women, child marriage, polygamy, Jari Pratha, and prostitution. They also took help from several organizations in the village to aware the entire population regarding these problems.
In Jumla, women belonging to different communities celebrate Teej separately. (Courtesy: The Himalayan Times)