PM Deuba says nothing wrong in raising amendment issue in joint press meet ; Constitution amendment issue irrelevant for time being: Chair Dahal
August 28, 2017 | 10:07 pm&nbsp&nbsp&nbsp&nbsp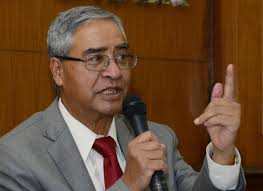 Kathamandu / Aug. 28: Prime Minister Sher Bahadur Deuba has said he has done nothing wrong by making announcement of putting further efforts for second amendment to the constitution during his joint press conference with his Indian counterpart Narendra Modi last week.
Deuba, who returned home on Sunday after completing the five-day India visit, said so while addressing a parliament meeting on Monday. "I want to make it clear that the task of constitution making and making it acceptable for all is our internal affairs. I haven't reached any agreement on this with anyone. And, it can't be done," said the prime minister.
He however was quick to add that the tasks of making the constitution acceptable for all and its implementation were the country's national agendas.
"And, this isn't unusual to inform about our national agendas to the national and international community," he argued. "Our neighbors and international community, who have been supporting us in our democracy, peace process and transition may show their interest in these issues and we shouldn't take it otherwise."
Constitution amendment issue irrelevant for time being: Chair Dahal
Meanwhile, the CPN (Maoist Centre) chair and former Prime Minister Pushpa Kamal Dahal has stressed on unity among three major parties to hold three tiers of elections and the implementation of the constitution as well.
Talking to media persons on Monday, chair Dahal shared that this year will be the year of the election as three tiers of elections must be completed within a year.
In another note, he said that the issue of constitution amendment was finalized for the time being. But it might be discussed in the new parliament as the constitution is a progressive document.
Responding to the query of media persons regarding the issues of constitution amendment raised by Prime Minister Sher Bahadur Deuba in his recent India trip, chair Dahal said that he was not formally informed in this regard but the issue has become irrelevant now.
Similarly, chair Dahal further said that issue of constructing high dam in Koshi River was not needed to be included in a joint press meet in India during PM Deuba's trip. He also assured that he will discuss with PM Deuba in this connection.RSS