EC seeks clarification from NC; EC setting up offices in local units of Province 2
August 28, 2017 | 10:07 pm&nbsp&nbsp&nbsp&nbsp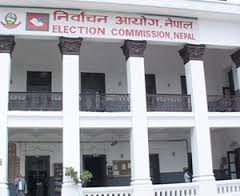 Kathamandu / Aug. 28: The Election Commission has directed the Nepali Congress to furnish clarification why not to take action against NC Birgunj Metropolis-15, President Anil Singh for breaching the electoral code of conduct.
The EC came up with the tough directive, acting on a tip-off, that more than 400 NC cadres under the leadership of Birgunj Metropolis, Ward President Singh were involved in polls publicity.
EC Spokesperson Surya Prasad Sharma said that such directive was issued based on the complaints lodged protesting NC motorbike rally.
The third phase of local level elections in eight districts in province number 2 is slated on September 18. RSS
EC setting up offices in local units of Province 2
The Election Commission (EC) is establishing its offices in 136 local units of Province 2, where the third and final phase of local level elections are scheduled to be held on September 18.
Chief election officers will be mobilised in offices based at the district headquarters. Besides coordinating the overall elections of the concerned district, chief election officers will also play the role of election officers for the polls that are staged at the district headquarters.
Election officers will oversee the polls that are held in local units outside the district headquarters.
As per the Local Level Election Act, the chief election officers and election officers are responsible for printing and displaying election programme set by the EC at their respective offices and local bodies, appointing election staff, managing election logistics, coordinating with the local administration for security of election staffers, holding elections, counting votes and declaring the election results, among others.
The EC hopes to set up it offices in all 136 local units of Province 2 by Monday.
Although Province 2 was severely affected by recent floods, Surya Sharma, spokesperson of the EC, on Sunday said they were confident about holding successful polls.
The election governing body has already asked the government authorities to repair the roads and polling centres that were damaged in floods.
With the addition of nine new local units in Province 2, the EC is currently working to issue new set of voter identity cards, according to Sharma.