Mahakali bridge to transform far west: PM Deuba
August 31, 2017 | 8:47 pm&nbsp&nbsp&nbsp&nbsp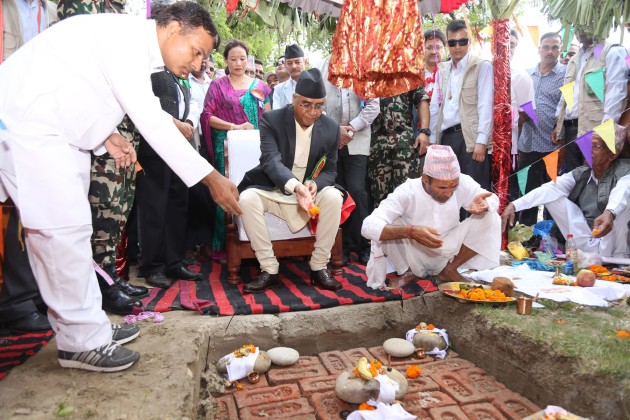 Bhimduttanagar / Aug. 31:Prime Minister Sher Bahadur Deuba has said the four-lane bridge to be constructed over the Mahakali River would bring change not only in the far west but to the entire nation.
Laying foundation stone to the four-lane bridge over the River here today, PM Deuba further said efforts would be made to construct a dry port in the Chandani Dodhara. "With the completion of the bridge, the Kanchanpur border point would be promoted," he said, adding that the foundation stone to the Pancheshwor Project would be laid soon.
The DPR for it completes in one month, he said while sharing the achievements of his visit to India.
On the occasion, Minister for Physical Infrastructure and Transport Bir Bahadur Balayar informed that far west people that a process to construct an international airport had begun in the region.
Chief of the Road Improvement Project, Sushil Babu Dhakal, said the four line bridge over the Mahakali is aimed to be completed in three years. The length of the bridge would be 800 meters while the width 23.8 m.
Agreement has been made to construct the bridge at the cost of Rs 3.27 billion. RSS