FNCCI pledges to comply with election code of conduct
September 6, 2017 | 9:33 pm&nbsp&nbsp&nbsp&nbsp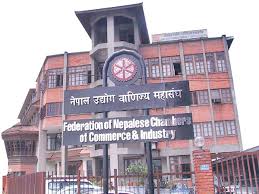 Kathmandu / Sept. 6: The Federation of Nepalese Chambers of Commerce and Industry (FNCCI) has pledged to comply with the election code of conduct to make the elections free, fair and economical.
At a program on the compliance of code of conduct from the private sector in upcoming elections, the FNCCI expressed its commitment to appeal to its subordinate bodies to not produce and sale any materials against the election code of conduct.
A commitment paper on the compliance of the code of conduct signed by the officials of FNCCI, Industry Ministry and subordinate bodies stated that they would not allow the production and sale of T-shirt, bag, cap and other campaign materials reflecting election symbol of any political parties against the election code of conduct.
On the occasion, Chief Election Commissioner Dr Ayodhee Prasad Yadav called for support from all sides to make the elections free, fair, impartial and economy. RSS