Civil Service Day being marked today
September 7, 2017 | 9:13 pm&nbsp&nbsp&nbsp&nbsp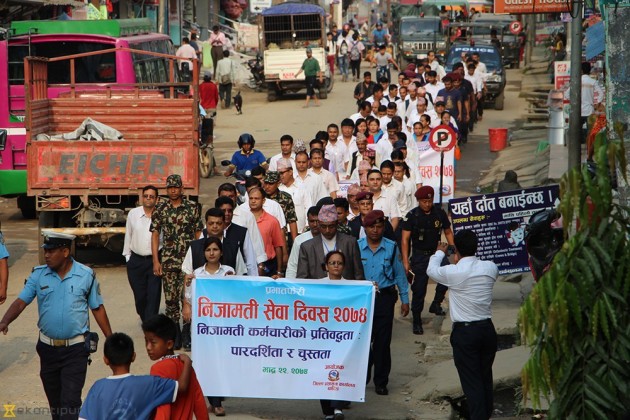 Kathmandu / Sept. 7: The 14th Civil Service Day is being marked across the country on Thursday by organising various activities.
According to Spokesperson at Ministry of General Administration Shivaram Neupane, the day is being marked throughout the country with the main theme of 'Commitment of Civil Service for Transparency and Effectiveness'.
While marking the day, the Ministry of Health is organising a blood donation on Thursday.
Neupane informed that the Day has not been celebrated with fanfare this year keeping into consideration the huge loss of life and property caused by floods and landslides.
The Ministry of General Administration carried out several programmes such as tree plantation for the past one week.
A main function committee has been formed under the coordination of Chief Secretary Rajendra Kishor Chhetri for the Day celebration.
Nepal has been marking the Day since 2004. Around 83,000 civil service employees are providing service. The government has granted holiday for civil service employees for the celebration of the Day. RSS