DPM Mahara calls on Chinese business community to invest in Nepal
September 10, 2017 | 10:18 pm&nbsp&nbsp&nbsp&nbsp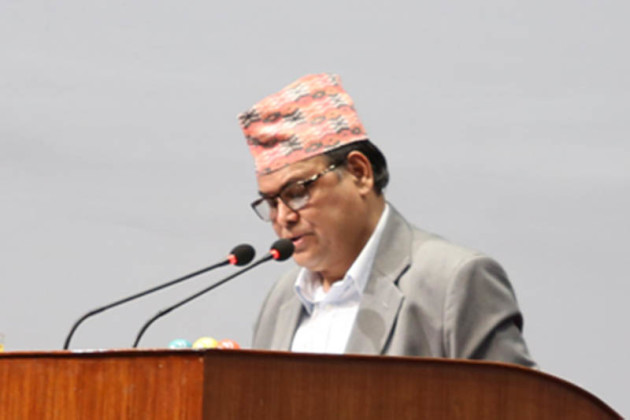 Kathmandu / Sept. 10: Deputy Prime Minister and Minister for Foreign Affairs Krishna Bahadur Mahara has urged Chinese business community to invest in infrastructure sector in Nepal, as environment conducive to investment has been created in the country.
"Nepal has focused on investment in infrastructure development and inter-country economic sector in order to increase connectivity between the two countries (Nepal and China). There are good opportunities for investment in inter-country railway, road, transmission line and airway," he said.
DPM Mahara, who is on an official visit to China, was addressing an interaction with Chinese traders and investors organised on Sunday by Nepali Consulate General Office in Guangdong Province.
Referring to the One Belt One Road Initiative agreement signed between Nepal and China, he stressed the need for commitments to the agreement from both sides, according to DPM Mahara's press and public relations coordinator Hari Lamichhane.
DPM Mahara also clarified that Nepal wants to have a farsighted cooperation with China in its development work and technology. Referring to the facilities provided by Nepal to visiting Chinese tourists, he requested Chinese nationals to visit and inspect world famous sites like the birthplace of Gautam Buddha in Nepal.
Saying Consulate General of Nepal is the medium for Chinese businessmen to invest in Nepal, he expressed the belief that Nepali businessmen, students and other Nepalese, living there, would be benefitted with the establishment of Consulate General as more than 1,000 Nepalis are living in Guangdong province.
Foreign Minister Mahara said that Guangdong province is becoming a hub for business, transport and education of the world. More than 100 Chinese and Nepali businessmen and investors had participated in the interaction. RSS