EC seeks clarification from civil aviation minister, NRA CEO
October 5, 2017 | 9:15 pm&nbsp&nbsp&nbsp&nbsp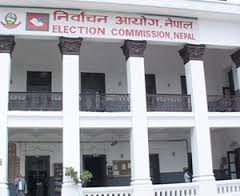 Kathmandu / Oct 5: Election Commission has sought clarification from Minister for Culture, Tourism and Civil Aviation Jitendra Narayan Dev for transferring Civil Aviation Authority of Nepal (Caan) Director General Sanjeev Gautam to the Ministry without first consulting with the commission.
A meeting of the EC presided over by Chief Election Commissioner Ayodhee Prasad Yadav on Thursday decided to direct Minister Dev to come before the EC office and furnish clarification within 24 hours.
The EC says the transfer was against the election code of conduct.
On September 26, Caan Director General Sanjeev Gautam was directed by the Ministry to stop attending the office and be present at the ministry every day to review the Aviation Policy, formulate strategies for effective implementation of national pride projects, among others.
Furthermore, the EC meeting on Thursday also directed National Reconstruction Authority CEO Govinda Pokhrel to furnish clarification within 24 hours for indulging in political programmes of Nepali Congress.
It is learnt Pokhrel has been meeting NC leaders and cadres at various places and attending the party programmes.
The EC says any person assuming public position should refrain from taking part in the political programmes of any political parties, and if the person does so it would be against the election code of conduct.
The EC has ordered Chief District Officer of Pyuthan to make arrangements for the immediate exit of Pokhrel from the district.