NRA directs granting subsidized loan smoothly
October 12, 2017 | 1:02 am&nbsp&nbsp&nbsp&nbsp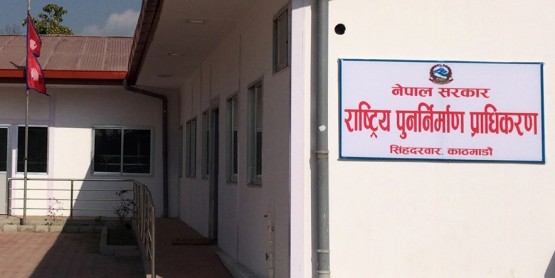 Kathmandu / Oct 11: The National Reconstruction Authority (NRA) has directed the authorities concerned to make arrangement for providing subsidized loan of Rs 300,000 to the earthquake survivors in a smooth manner.
A meeting of the Council of Ministers held on Monday amended the working procedure-2017 on granting loan on group collateral for the construction of the house of earthquake victims.
The Cabinet decision to this effect has opened the way for survivors to obtain loan by keeping the under-construction house as collateral.
The NRA has also called on the authorities to arrange easy and smooth flow of loan to the end beneficiaries.
NRA Chief Executive Officer Prof Dr Govinda Raj Pokharel directed the Minister for Federal Affairs and Local Development, Ministry for Urban Development, Bankers' Association and representatives of Office of Auditor General to ease the process for immediately granting subsidized loan to the earthquake victims for the reconstruction of private homes as per the working procedure approved by the Cabinet on Monday.
"The government has approved the working procedure so make necessary arrangement for providing subsidized loan to the beneficiaries in the list. There should be no efforts in any pretext to trouble the earthquake survivors", Pokharel said while issuing instruction to the authorities concerned. RSS