Candidates file their nominations for upcoming elections; Dahal confident on Left Alliance victory
November 2, 2017 | 5:38 pm&nbsp&nbsp&nbsp&nbsp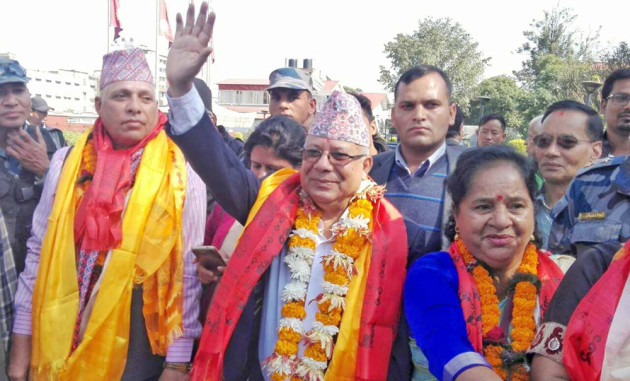 Kathmandu / Nov 2: Candidates from major political parties have filed their cadidacy for upcoming elections in 45 districts. Registration of candidacies for the first-past-the-post system under the second phase of the House of Representatives and State Assembly elections scheduled for December 7 started today.
Candidates can register their candidacy at the Office of the Chief Returning Officer and the Office of the Returning Officer in their respective electoral constituencies from 10 am to 5 pm today. The second phase of House of Representatives and State Assembly election is taking place in 45 districts.
It has been learned that candidates have reached the office of the chief returning officer and the returning officer since the morning and inquired about the process and the papers required for registering their candidacies.
The Election Commission has urged one and all to make the registration of candidacy civilised and peaceful.
Dahal confident on Left Alliance victory
Meanwhile, Maoist chairperson, Pushpa Kamal Dahal said that the Left Alliance would bring stability to 70 years of unstable governments in Nepal. A common representative of UML and Maoist from Chitwan -3, Dahal said "For 70 years, not a single government has fully completed its five year tenure. We are confident that our Left Alliance will win to govern the country for five years."