EC scraps candidacy of corruption-accused NC leader Joshi; PM assures foolproof security for polls
November 4, 2017 | 10:02 pm&nbsp&nbsp&nbsp&nbsp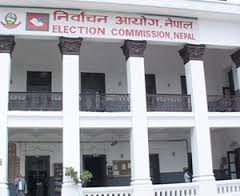 Kathmandu / Nov 4:The Election Commission (EC) has scrapped candidacy of Nepali Congress leader Govinda Raj Joshi citing the candidate was already convicted by the Special Court and the corruption case against him is still under investigation at the apex court.
A Board meeting of the EC instructed Tanahu District Office to cancel Joshi's candidacy following a complaint was filed against the leader Joshi. NC senior leader Ram Chandra Poudel had filed a complaint against Joshi on Friday demanding that the corruption accused leader Joshi be barred from contesting the elections.
EC Spokesperson Navaraj Dhakal said Joshi's candidacy was scrapped in accordance with provision of Election of Members of House of Representative, the election law which bars corruption accused from contesting the elections.
Former Minister Joshi was unhappy with the party leadership after the party's senior leader Poudel was fielded from his election constituency, Tanahu-1. Disagreed with the party's decision Joshi had filed his candidacy as an independent candidate. After Joshi was accused of corruption NC has been fielding Poudel as the party's official candidate in the elections for long.
In July 2012 Special Court had convicted the former minister Joshi for corruption. The court had slapped a fine of Rs 21.6 million on the Joshi and ordered confiscation of properties worth the same amount.
Following Special Court decision former minister Joshi had moved to the Supreme Court in June 2013 against the lower court decision. His case is still pending at the apex court as hearings could not take place into the case although the court fixed several dates for the hearing.
PM assures foolproof security for polls
Meanwhile, Prime Minister Sher Bahadur Deuba has assured foolproof security for the upcoming parliamentary and provincial elections.
At a meeting with election commissioners at his official residence, Baluwatar, the prime minister said that the government will provide its full support to the commission to make the elections successful and urged the commissioners to expedite poll preparations. "The prime minister stated that the government is fully committed to holding the elections on scheduled dates and urged the commission to move ahead without any misgivings," states a press statement issued by the EC.
In response, election commissioners informed the prime minister that filing of candidacies for both the rounds of parliamentary and provincial assembly elections have already been completed. They also informed that other preparations including printing of ballot papers are going ahead smoothly.
Chief Election Commissioner Ayodhee Prasad Yadav; commissioners Ila Sharma, Narendra Dahal, Ishwari Prasadu Poudyal, and Sudheer Kumar Shah; Chief Secretary Lokdarshan Regmi, Home Secretary Mohan Krishna Sapkota and EC Secretary Begendra Sharma Paudyal were present at the meeting.
The EC is conducting first round of parliamentary and provincial elections in 37 election constituencies in 35 districts on November 26 and second round of elections in the remaining districts on December 7.