Left alliance unveils election manifesto; RPP unveils election manifesto, stressing on restoration of Sanatan Hindu State
November 7, 2017 | 9:57 pm&nbsp&nbsp&nbsp&nbsp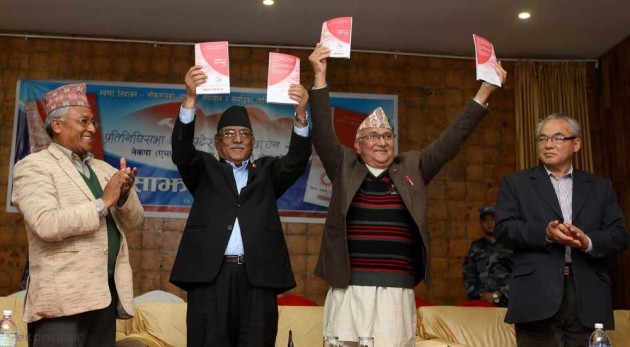 Kathmandu / Nov 7: CPN (Maoist Centre) Chairman Pushpa Kamal Dahal has said the leftist alliance has accorded its top priority to the stability and prosperity of the country.
At a news conference organised to unveil the election manifesto of the alliance in the Capital on Tuesday, Chairman Dahal claimed the objective of the alliance between the party and CPN-UML was to end country's political instability by forming a strong and single communist centre and ultimately to achieve stability and prosperity.
Saying the manifesto has enlisted point-wise activities to be fulfilled within two, five and 10 years, Dahal said the per capita income of each Nepali would be increased to 5000 US dollar within 10 years.
The alliance in its manifesto has forwarded a plan of making local-level empowered as well as developing the Kathmandu Valley as an integrated town.
Also the former Prime Minister, Dahal said, "We have wished speedy economic activities and employment in the country. We have expressed this sentiment in the manifesto."
RPP unveils election manifesto, stressing on restoration of Sanatan Hindu State
Meanwhile, the Rastriya Prajatantra Party (RPP) has unveiled its election manifesto amidst a programme in Kathmandu, on Tuesday.
Unveiling the document prepared in view of the upcoming elections to the House of Representatives and State Assemblies, party chair Kamal Thapa said the party would adopt the 'Mahendra nationalism' of BP Koirala's national reconciliation policy, stating that ideologies of both national leaders are equally appropriate for the protection of national integrity, and sovereignty, for national security and unity.
The Deputy Prime Minister and Energy Minister further said restoration of the Sanatan Hindu State, democracy with constitutional monarchy and strengthened local governance system are the basic features of the election manifesto.
The manifesto has underlined the need of adopting the people's elected prime ministerial system.
Referendum on the issues of national importance, empowerment of women, security and protection to marginalised community, expansion of banking network to rural areas and bank account of every Nepali citizen have been stressed in the manifesto, stating that Push 27 in the Nepali calendar every year, the birth anniversary of unifier of modern Nepal, Prithvi Narayan Shah, will be celebrated as the national unity day.
The party has promised the production of 10 thousands megawatt of electricity within the next 10 years and implementation of the concept of one house one employment to see the two percent more economic growth within such period.
It also said to increase people's access to healthcare facilities by establishing a new health facility as of the standard of Bir Hospital in every province and expansion of roadways network nationwide in the manifesto.