Preliminary squad announced for final round of WCLC matches
November 8, 2017 | 9:00 pm&nbsp&nbsp&nbsp&nbsp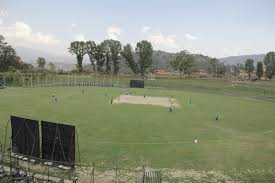 Kathmandu / Nov 8: The preliminary 28 members squad for upcoming ICC World Cricket League Championship (WCLC) Round 7 matches against UAE has been announced.
Anil Mandal and Sidhdhnat Lohani have made comeback in the squad after being out of the reckoning for last round of matches. Similarly, Avinash Karn has been dropped. Couple of players along with Dipendra Singh Airee and Sandeep Lamichhane will make it to the senior squad after the U-19 Asia Cup to be held from November 8 to 17.
Round 7 matches against UAE will be played on 6th & 8th December at Sheykh Zayed Stadium, Abu Dhabi.
Squad: Paras Khadka, Gyanendra Malla, Sharad Vesawkar, Basant Regmi, Sompal Kami, Binod Bhandari, Sagar Pun, Karan KC, Dipendra Singh Airee, Sandeep Lamichhane, Aarif Sheikh, Lalit Bhandari, Sushan Bhari, Sushil Kandel, Naresh Budhayer, Shakti Gauchan, Jitendra Mukhiya, Mehboob Alam, Saurabh Khanal, Hasim Ansari, Siddhant Lohani, Dilip Nath, Bikram Sob, Sunil Dhamala, Anil Mandal and Kushal Bhurtel.
Two players will be named from the current U-19 team, except Airee and Lamichhane, currently in Malaysia after the Youth Asia Cup.
The selection committee was headed by ICC representative Aminul Islam, Head Coach Jagat Tamatta & captain of National cricket team Paras Khadka. The close camp will start from November 9, 2017, at TU Ground, Kathmandu.