EC urges government bodies to monitor excessive election spending
November 10, 2017 | 10:50 pm&nbsp&nbsp&nbsp&nbsp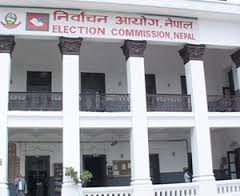 Kathmandu / Nov 10: Chief Election Commissioner Dr Ayodhee Prasad Yadav has urged the concerned government bodies to monitor the excessive spending by the parties and their candidates in the election campaigning. The election of the House of Representatives and Provincial parliament is being held soon.
During a discussion held among government officials, industrialists and businesspersons being focused on election preparation and election code of conduct at EC Friday, CEC Dr Yadav urged the officials from Nepal Rastra Bank, Department of Anti-Money Laundering, and Inland Revenue Department to monitor the excessive flow of money by the political parties and election candidates.
"It is reported that the election campaigning has been extravagant thereby flouting EC's ceiling. It's worrying how the extravagance can be checked. Where does the money come from? What's its source? It is taxable income or not? The government body must monitor it," CEC Dr Yadav wondered and underscored.
According to him, political parties could win people's favour with their thoughts and elections manifestos rather instead of the use of money.
Election Commissioner Narendra Dahal said the EC has banned the distribution of T-shirts imprinted with party flags and election symbols. Even the producers of such materials were told to stop printing.
Another Election Commissioner Sudhir Kumar Saha requested the industrialists to donate the candidates though bank.
On the occasion, representatives of the business and industry sectors demanded that the government could pay heed to tax cut to them for their donation to the election candidates. RSS