EC reviews election security
November 12, 2017 | 9:28 pm&nbsp&nbsp&nbsp&nbsp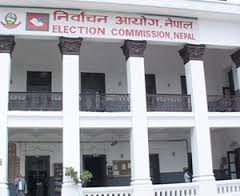 Kathmandu / Nov 12: The Election Commission held a discussion and review of the election security plan and entire peace and security situation in the wake of the Rukum and Rolpa incidents.
The high-level election security committee meeting held in the presence of Chief Election Commissioner Dr Ayodhee Prasad Yadav concluded that the security agencies were capable to provide security to the political leaders, candidates, and voters.
The security agencies shared security work plan and commitment at the meeting.
CEC Dr Yadav told media persons that entire peace and security situation of 32 districts holding the elections to the State Assemblies and Provincial Parliaments was reviewed in the meeting.
EC was confident of the smooth security as committed by the security agencies, he added.
He further said the EC was assured of an environment conducive for publicity to the candidates and politicians, adding that such incidents would not occur in the days to come.
Dr Yadav said that the plan of action of Nepal Army, Armed Police Force Nepal, and Nepal Police made in the local level polls has assured all regarding the success of upcoming polls.
On the occasion, coordinator of election committee Sudhir Kumar Saha directed the concerned officials to move ahead to ensure security as per the necessity.
Election Commissioners Ila Sharma, Narendra Dahal, Ishwori Prasad Poudyal and Saha, Secretary at the Ministry of Home Affairs Mohan Krishna Sapkota, Defense Secretary Binod KC, EC's Secretary Begendra Raj Sharma Poudyal, NC's Lieutenant General Purna Chandra Thapa, Inspector General of Police Prakash Aryal, Inspector General of Armed Police Force, Nepal Singha Bahadur Shrestha and Chief of National Investigation Department Dilip Regmi were present in the review meeting. RSS