PM directs chiefs of security bodies to create atmosphere for free elections
November 15, 2017 | 6:16 pm&nbsp&nbsp&nbsp&nbsp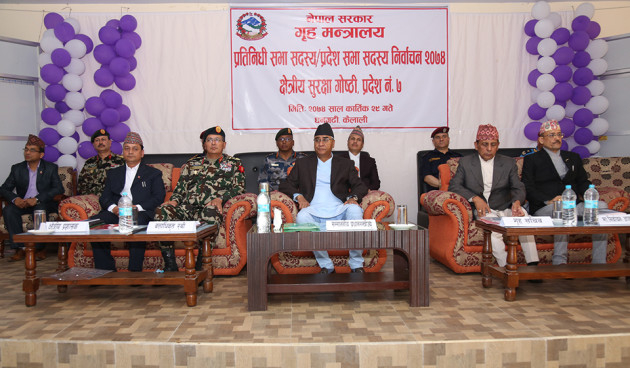 Dhangadi / Nov 15: Prime Minister Sher Bahadur Deuba has directed the chiefs of security bodies to create environment conducive for conducting the elections in a free and impartial atmosphere and without any sense of fear.
In his address to a province-level seminar on security organised by the Ministry of Home Affairs in view of the upcoming elections to the House of Representatives and State Assemblies here today, the Prime Minister who also holds the portfolio Home Ministry, he said there were reports that physical assaults on elections candidates were on the rise in some districts which had direct implication in the electoral process. He instructed the authorities concerned to dig out if there were loopholes in the election security plans and go work in a coordinated way.
He was of the view of minutely probing into attacks on election candidates, and taking action against the guilty. The security bodies should work in such a way so that such incidents would not reoccur.
"It is the responsibility of all bodies concerned to conduct the elections on the scheduled dates in a peaceful and free atmosphere," he asserted.
The Prime Minister insisted on the need for maximum utilization of available ( limited) resources and enforcing election-focused security plans effectively so as to conduct the elections in a reliable atmosphere.
He directed the authorities concerned to pay attention to the surveillance on those aspects probable of posing threats/challenges to the election security in the days ahead, possibility of unhealthy competition, forced donation, and threat to candidates' security.
Home secretary Krishna Prasad Sapkota pledged to leave no stone unturned in regard to ensuring full security of the elections. Chiefs District Officers from all nine districts in the Province 7 and chiefs of district offices of the Nepal Army, Nepal Police, Armed Police Force and National Investigation Department were present in the seminar. RSS