EC calls for end to anti-election activities
November 17, 2017 | 9:06 pm&nbsp&nbsp&nbsp&nbsp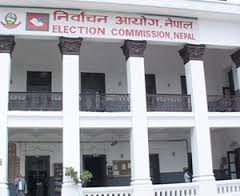 Kathmandu / Nov 17 : The Election Commission (EC) has expressed its sadness over the attacks targeting the election candidates and their supporters during the poll campaigns.
In a statement on Friday, the election body said that it has been left stunned by the ongoing attempts to deprive the elections candidates and voters of their fundamental rights.
The EC issued such statement in the wake of violent incidents of explosions and blasts targeting election candidates and rallies of political parties.
Stating that the election body is confident about the security plan of the Nepal government, the EC has urged the latter to adopt additional measures for the security of candidates and their supporters.
The EC has also called on all the political parties, voters and concerned stakeholders to get involved in their election related activities without being discouraged by these incidents.
Moreover, the EC also requested the concerned sides to desist from any anti-election activities against the aspirations of people.