Flight test of new radar starts today
November 18, 2017 | 9:41 pm&nbsp&nbsp&nbsp&nbsp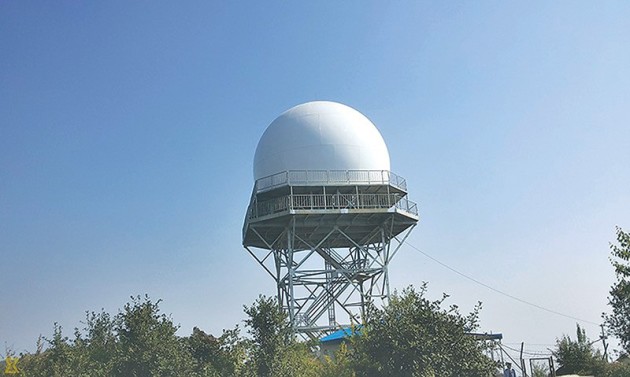 Kathmandu / Nov 18: The Civil Aviation Authority of Nepal (Caan) will be conducting flight inspection of the Mode S Monopulse Secondary Surveillance Radar (MSSR) system installed on Bhatte Danda in Lalitpur on Saturday.
The next generation radar provides improved accuracy and enhanced surveillance, and marks the entry of the latest technology in Nepal's air traffic control.
The radar system was completed in July 2016 after four years of work. The Rs906-million project was funded by the Japan International Cooperation Agency (Jica) as part of the broader Tribhuvan International Airport (TIA) modernization project. Jica handed over the project to Caan last September.
Caan Spokesperson Birendra Prasad Shrestha said that a 'special aircraft' would arrive from Ireland on Friday to conduct the radar test. "The flight inspection of the radar will be conducted from Saturday for two days." A technical test of the radar needs to be conducted at an altitude up to 43,000 feet. The test needs to be conducted on all routes.
Caan and the US Federal Aviation Administration (FAA) have signed a memorandum of understanding to conduct the flight inspection of the radar.
According to Shrestha, flights to and from Tribhuvan International Airport (TIA) will not be affected. "However, we will be issuing a 'notice to airmen' to alert aircraft pilots to exercise caution along the flight routes."
He said that the FAA would provide a preliminary report after the test. "We have to wait for at least a month to get the final report after which commercial operation of the radar will begin," said Shrestha. After the radar is switched on, air traffic controllers (ATCs) will be able to see the precise position, speed and altitude of every aircraft in range.
The MSSR monitors flight movements over an area of 200 nautical miles or more. Its reach extends up to Dang in the west and the entire eastern, northern and southern parts of the country.
The existing radar at TIA has a reach of only 60 nautical miles.
The new radar ensures high performance to improve reliability and safety of air transport. For example, ATCs using the current radar system have to keep a horizontal separation of 10-15 nautical miles (19-28 km) between aircraft approaching TIA. The MSSR system will allow ATCs to reduce the gap between aircraft to 3-5 nautical miles (6-9 km). This means, ATCs can accommodate more aircraft on any route at a given time which will reduce airspace congestion.
The MSSR system will modernize our air traffic management system and enhance safety, said Shrestha. Moreover, the radar can monitor low-flying aircraft and also track aircraft behind mountain ranges.
Last August, the Civil Aviation Ministry gave the go-ahead to Caan to sign a memorandum with the FAA to conduct flight inspection of the MSSR system. The project was approved five years ago. The installation of a secondary radar had been proposed in 1994, but the plan was put on hold due to multiple reasons.
The project was initiated in 2013 and was originally planned to be completed by 2015. The 2015 earthquake and monsoon delayed progress. It was further held up by a severe fuel crisis caused by India's economic blockade of Nepal. (Kathmandu Post)