Street dramas in all 77 districts
November 18, 2017 | 9:50 pm&nbsp&nbsp&nbsp&nbsp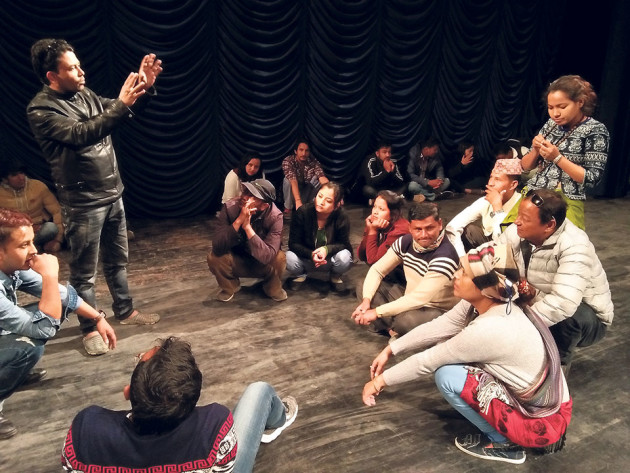 Kathmandu / Nov 18: As polling dates for federal parliament and house of representative near, dramas on awareness of election education will be conducted in all 77 districts.
The Election Commission will conduct this awareness program organizing dramas for the election. A two-day workshop in this regard concluded in Kathmandu on Thursday.
The drama was conducted at the Rastriya Naach Ghar on November 9 and 10.
Directors of 38 drama teams participated in the workshop from different parts of Nepal. They were trained by the director of Gurukul Theater, Sunil Pokharel, and trainer of Cultural Corporation Birendra Hamal.
Main trainers of the department of voters' education and training of the Election Commission, Hem Raj Aryal and Mamata Shrestha, trained the drama artists in order to educate public about the process of voting during election.
"This time Rastria Nach Ghar has been provided with the responsibility to conduct street dramas in all 77 districts," said General Manager of Cultural Cooperation Rajesh Thapa, adding, "We have 35 local drama groups and three from Cultural Cooperation and we are sending them to neighboring districts for the drama. Main actors and directors of all 35 groups have got their training during the two-day training program in Kathmandu. Drama groups of rural areas were also present for the training program so the dramas will be enacted in rural areas like Mugu as well".
According to Thapa, the dramas were shown in 32 districts from November 14 for the first phase election scheduled for November 26.
Group of seven to 10 actors will perfrom dramas on three Himalayan districts and three tarai districts daily. From Kartik 28 to Manghair 18 the dramas will be shown in all seven hundred and fifty three local units. For the second phase election, dramas will be shown from 5-18 Mangsir in the remaining forty-five districts.In the Himalayan districts, this drama will be shown in Nepali language along with Rai, Tamang and Gurung languages and in Maithali, Bhojpuri, Awadhi and Tharu languages in the tarai region.
"Thirty eight groups have shown their dramas in workshop after training. They will enact the drama at their place to teach people about the process of polling,, added Pokharel. (Republica)