Prakash cremated at Pashupati Aryaghat; Pushpa Kamal Dahal lit funeral pyre; leaders and India extend condolences
November 19, 2017 | 9:06 pm&nbsp&nbsp&nbsp&nbsp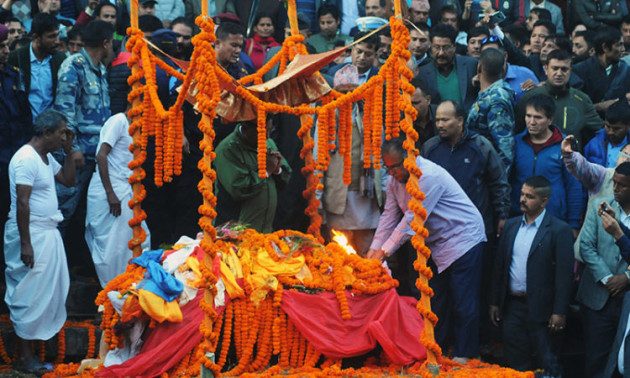 Kathmandu / Nov 19: The mortal remains of Prakash Dahal, son of CPN (Maoist Centre) Chairman Pushpa Kamal Dahal, who passed away Sunday morning, were consigned to flames at Pashupati Aryaghat in Kathmandu.
Dahal, who was brought to the Thapathali-based Norvic Hospital at 5:50 this morning, was dead upon arrival, the hospital said at a press conference.
Chairman Pushpa Kamal Dahal lit the funeral pyre at Pashupati Aryaghat as per the Hindu tradition.
Dahal, 36, died of cardiac arrest. He is survived by two wives and two children.
Dahal, who was campaigning for his father for the upcoming elections, had returned to Kathmandu from Chitwan on Saturday.
Upon hearing the demise of his son, the party Chairman Pushpa Kamal Dahal flew to Kathmandu from Birtamod, Jhapa, where he was campaigning for the upcoming federal parliamentary and provincial elections.
Dahal's body was kept at Party Headquarters in Paris Dada for final tribute.
Political leaders paid their final tributes to Dahal at the party office in Paris Dada from 1:30 to 3:30pm today.
Chairman Dahal wrapped the party's flag on his son's body in a state of shock and grief.
Meanwhile, senior leaders of Nepali Congress, CPN-UML, Maoist Centre and other parties reached the party headquarters to pay their final respect.
Leaders extend condolences to bereaved Dahal family
Meanwhile, leaders of various political parties have offered condolences to the bereaved family members of Prakash Dahal, son of CPN (Maoist Centre) Chairman Pushpa Kamal Dahal, who passed away on Sunday.
Prakash was rushed to Thapathali-based Norvic Hospital early this morning where doctors declared him dead. However, official announcement regarding the demise of Prakash is yet to come.
CPN-UML Chairman KP Sharma Oli has expressed great sorrow over the untimely demise of Prakash Dahal. Chairman Oli had met CPN (MC) Chairman Dahal soon after receiving the news of the demise of the latter's son and offered condolences to the sorrow-stricken family, informed Oli's press advisor Chetan Adhikari.
Likewise, NC leader Shashank Koirala has also extended his condolences to CPN (MC) Chairman Dahal's family.
Leader Koirala, who is at Nawalparasi for election publicity for the upcoming federal and provincial elections, extended his condolences in a telephone conversation with Dahal.
Likewise, Koirala has postponed election publicity programmes and is coming to Kathmandu along with NC leader and PR category candidate Binod Chaudhary.
Similarly, leaders of various political parties including Naya Shakti Nepal party coordinator Baburam Bhattarai, Nepali Congress President Sher Bahadur Deuba, NC leaders Gagan Thapa, Bimalendra Nidhi, Bibeksheel Sajha Party leader Rabindra Mishra among others have taken to social media to express their condolences to Dahal's family.
Indian Foreign Minister condoles Dahal's death
Likewise, Indian Minister of External Affairs Sushma Swaraj condoled the death of Prakash Dahal. She wrote in her twitter page: We are sorry to know about the sudden demise of Prakash Dahal son of Shri Pushpa Kamal Dahal 'Prachanda' former Prime Minister of Nepal. Our heartfelt condolences to the bereaved family.
Dahal had suffered a sudden cardiac arrest and had breathed his last before reaching the Thapathali-based Norvic International Hospital this morning.