'Full security arrangement for polls' in Province 1
November 25, 2017 | 5:36 am&nbsp&nbsp&nbsp&nbsp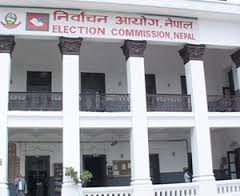 Kathmandu / Nov 24: Over 10,000 security personnel have been deployed in the seven hilly districts of Province 1 in view of the parliamentary and provincial assembly elections. The first phase of provincial and parliamentary election will take place on Sunday in Taplejung, Panchthar, Bhojpur, Solukhumbu, Khotang, Okhaldhunga and Sankhuwasabha districts of the province. Among these districts, election candidates have already been targeted by anti-election forces in Sankhuwasabha and Bhojpur. In order to avert unwanted incidents, even plain-cloth security personnel have been deployed.
"Security has been tightened in all the seven districts of Province 1. We have made different security arrangements for towns and remote areas," said AIG Pashupati Upadhaya, police chief of the province. "We are pretty sure that the elections on Sunday will be peaceful and smooth," he added.
According to Upadhyay, necessary election tools and materials have already been taken to the voting centers. "Security personnel and election materials were sent in helicopters or vehicles depending on the location," stated Upadhyay. "Just two days are left for the election and the preparations have also been completed," he added.
Nepal police, Armed Police Force, Nepal Army and Temporary Police have been deployed for election security. From different districts of the province, 103 cadres of the Netra Bikram Chand-led CPN have been arrested and kept in police custody.
"There are some highly sensitive places in Bhojpur, Solukhumbu and Sankhuwasabha. Special security has been arranged in those areas," informed a police officer. "Anti election activities won't be tolerated," he added.
The District Administration Office of Taplegunj reported that full security arrangement has been made in the district. CDO Mohan Bahadur GC stated that there is 'reliable security arrangement' in all 114 election centers. "There are 2,040 security personnel for this district," he said. "Reserve forces have also been kept on high alert," he added.
Laxmi Devi Humagain, CDO of Panchthar also expressed full confidence over the security arrangements in the district. She stated that the elections 'would be held in free and fair atmosphere'. "Mobile teams of Nepal Army, Nepal police and Armed Police Force have been patrolling the areas. Everything is smooth and under control," she said.
Administration offices of the rest of the districts have also expressed satisfaction over poll security arrangements. They said reserve forces were ready to cope up with emergency situations. (Republica)