65 % voter turnout in first phase Federal, State Assembly polls
November 26, 2017 | 10:17 pm&nbsp&nbsp&nbsp&nbsp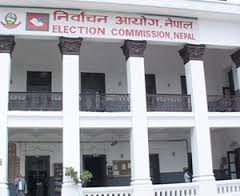 Kathmandu / Nov 25: Around 65 per cent voter turnout in the first round of the elections to the House of Representatives and State Assemblies held in 32 mountainous districts across the nation, Election Commission said.
Addressing a press meet after the elections, in Kathmandu today, the Chief Election Commissioner Dr. Ayodhee Prasad Yadav informed that Bajura topped with more than 80 percent voter turnout, where Manang district recorded the lowest turnout.
The first phase of election held at 4465 polling stations across 32 districts would elect 37 parliamentarian members and 74 members to the State Assemblies.
CEC Yadav informed that the voter turnout was enthusiastic as they throng the polling stations from 7am-5pm to cast their votes.
"Election Commission respects people's enthusiasm towards elections as it would help for successful implementation of federal democratic in the country to attain political stability," Yadav added.
The Election Commission have decided to hold re-elections of two polling centres in Rukum district after the CPN-Maoist Centre cadres poured acid in the ballet boxes this morning.
The re-elections of the Ratna Lower Secondary School voting centre at Bafikot Rural Municipality-5 and at the Gattasaina voting centre at Aathbiskot Municipality-12 in Rukum west would be held on December 7.
Despite minor incident in Rukum district, CEC Yadav said the elections were held in a peaceful manner in other polling stations.
Preparation are underway to bringing ballot boxes at the district headquarters from all the polling centres, informed Yadav.
The ballot boxes brought to the the District Election Officer's office or the Chief Returning Officers have been heavily guarded by the security forces in presence of political parties representatives.
The Election Commission has clarified that the vote counting of the first phase elections would start after the completion of the second phase elections on December 7.
Meanwhile, the EC has urged all the political parties, security forces, general public and election observers to provide their support for successfully holding the second phase of elections in remaining 45 district, on December 7.
AS per the constitution requirement, Nepal should hold all levels of elections by January 21 for the implementation of constitution and federalism in the nation.