Stakeholders stress better connectivity to bring more tourists to Lumbini
November 30, 2017 | 8:46 pm&nbsp&nbsp&nbsp&nbsp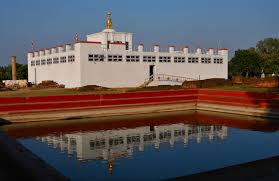 Kathmandu / Nov. 30: Tourism stakeholders of Lumbini have stressed the need to enhance connectivity and ensure smooth and hassle-free services at Nepal-India border for bringing more foreign tourists to Lumbini – birthplace of the Buddha – via India.
Speaking at an interaction organized in Lumbini on Wednesday by Association of Buddhist Tour Operators (ABTO), they said that the governments of Nepal and India should take needful initiatives for making border formalities easier for tourists.
"Things are a bit easier on the Nepali side. But the process is tedious and full of hassles on the Indian side of the border. This has to improve as number of foreign tourists starting the Budhist Circuits pilgrimage from Nepal will increase manifolds once Gautam Buddha International Airport comes into operation," Rabindra Sharma, Nepal coordinator of ABTO, said at the interaction.
ABTO is an umbrella body of tourism entrepreneurs involved in Buddhist pilgrimage tourism. Headquartered in Bihar, India, it has chapters in different countries, including Nepal.
Similarly, Chetan Pant, adviser of Siddharthanagar Hotel Association of Nepal (SHAN), suggested Nepal and India should start talks about starting railway circuits, connecting Lumbini to other Buddhist sites in India.
Lumbini welcomed 136,253 foreign tourists in 2016 which is just a fraction of what other Budhist Circuits sites in India like Bodh Gaya, Sarnath and Kushinagar receive. Most of the foreign tourists come to Lumbini via India.
Ram Kumar Sharma of Siddharthanagar Chamber of Commerce and Industry said Nepal should lobby with India to bring its railway service till Lumbini. "As China is planning to build railway line to Lumbini from Kathmandu, we are hopeful that the Indian Railways will extend its services till Lumbini," he added.
C B Shrestha, president of SHAN, said better connectivity and convenience of visitors is a must for tourism. "The government should build connectivity and the private sector will look after the convenience of visitors," he added.
Kaulesh Kumar, general secretary of ABTO, said that the association would take up issues raised by tourism stakeholders of Lumbini with the Indian government.
Representatives of different organizations like Siddharthanagar Association of Tour and Travel Agents, Siddharthanagar Chamber of Commerce and Industry, Siddharthanagar Hotel Association of Nepal (SHAN), Hotels and Restaurant Association of Siddharthanagar, Siddharthanagar Transporters' Committee, among others were present in the program.