EC urges citizens to exercise voting rights; Prez urges voters to peacefully participate in polls
December 6, 2017 | 10:41 pm&nbsp&nbsp&nbsp&nbsp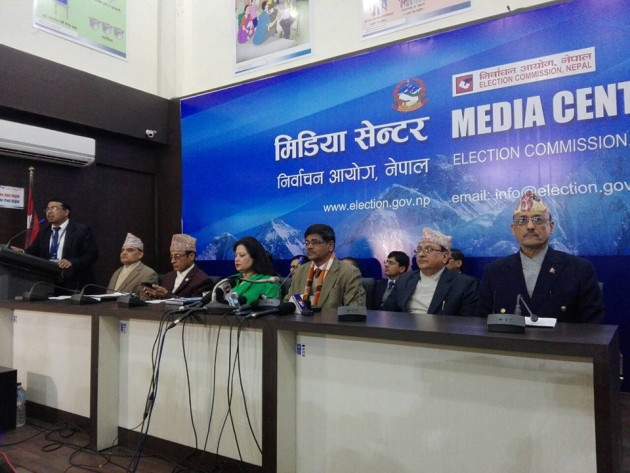 Kathmandu / Dec 6: With the country all set to hold the second round of election to the House of Representatives and Provincial parliament Thursday, the Election Commission has urged voters to exercise their rights being confident.
The country is holding the election for 128 members of the House of Representatives and 256 members of provincial parliament. There are a total of 7,752 voting stations and 15,344 polling centers for the election. As many as 12.23 million citizens are exercising their voting rights tomorrow.
The EC has assumed the voters' turn out to be over 75 percent.
There are 1,663 candidates in the fray for the FPTP election of House of Representatives while 2,819 candidates for provincial parliament. Similarly, under the proportional category, 110 are in the fray for House of Representatives and 5,838 for provincial parliament.
Organizing a news conference, Chief Election Commissioner Ayodhee Prasad Yadav urged the political parties and their candidates to abide by the election code of conduct, so that it would help foster political culture.
He hoped that with the conduct of this election, Nepal would fully embrace the federal republic with the implementation of the constitution.
Prez Bhandari urges voters to peacefully participate in Thursday's polls
Meanwhile, President Bidhya Devi Bhandari has called on Nepali people to peacefully participate in the second phase of federal parliament and provincial assembly elections slated to be held in 45 districts on Thursday.
In a message to the voters issued on the eve of twin elections, the president noted that the Constitution of Nepal, adopted by the Constituent Assembly of Nepal, has made it mandatory to hold all three tiers of elections—local, provincial and federal level—by January 21, 2018. "In this connection, local level elections were successfully held earlier this year and the people participated fervently in the first phase of federal and provincial elections on November 26," read the statement.
Stating the successful conduction of elections to federal parliament and provincial assemblies is crucial and historical for the implementation of the new constitution, the president hoped that there will be political stability in the country after the elections and the nation will move towards building a socialist economy based on social justice and equality as provisioned in the constitution.
"The participation in the upcoming elections is not just an exercise of fundamental rights to choose a people's representative but also a concrete contribution in creating a socio-economically prosperous Nepal," the statement further read.
The president has urged the people to enthusiastically participate in the first ever elections in Nepal based on federal structure and make the democratic process successful.