Nepathya releases their first song – AaganaiBhari
December 30, 2017 | 12:27 pm&nbsp&nbsp&nbsp&nbsp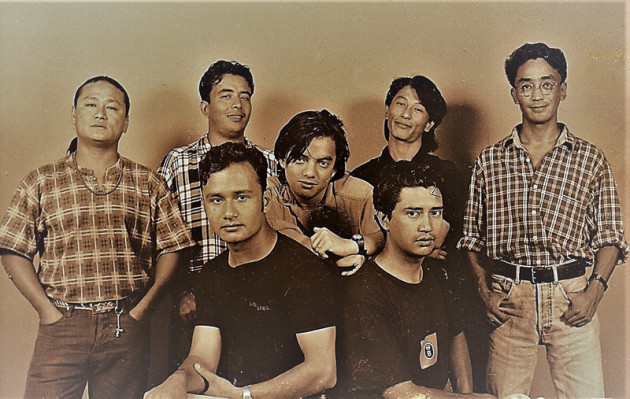 Kathmandu / Dec 29: As part of the 25 years celebration, Nepathyahas released a fresh video of their first song, AaganaiBhari.
AaganaiBhariwasNepathya's first recorded song and also the first track of their first album. Therefore, it is regarded as the first official song of Nepathya. The album was released on 1st April 1993.
Nepathya was initiated by 3 young lads from Pokhara during the early 90s – Deepak Jung Rana, Bhim Poon and Amrit Gurung. Later Rabin Shrestha, Suresh Poon and Buddhi Gurung joined to make the first lineup during the making of their first album.
"I remember Deepak and myself working on the lyrics and composing this song during the early 90s, which was recorded in Rabin's voice" recalled Amrit Gurung, frontman of Nepathya.
It has been 25 years since the band was formed, since thenNepathya has witnessed 21 musicians come and go, all contributing to the present glory of Nepathya.
"It is to celebrate and thank all those who contributed to Nepathyaduring this 25-year long journey. We have tried to acknowledge all of them in this video" said Kiran Krishna Shrestha of nepalaya, the promoters of Nepathya.
The current video is based on a live track performed by the current band members of Nepathya. The live audio is from Nepathya's Butwal show of 25th February 2017. The visuals used are from Nepathya's open-air live performances in Kalika School – Butwal, Tundikhel- Kathmandu and Pokhara Stadium.
"We have come a long way since this song was recorded. Looking at the pictures from our first album makes me nostalgic and realize how I have aged," Amrit shared. "We were in our mid-20s and now we are approaching 50. With time my hair has grayed, but it is very humbling to see our listeners have consistently stayed and grown with us during this journey. Without them, we would not have come so far", he added.
Nepathya has been performing this song during all shows under the 25 years celebration and never misses to crack a joke before singing this song, "It has been 25 years since we released this song, I can see many of you in the audience were not even born when this song was released." With Nepathya front-man Amrit Gurung's humorous comment, the audience ruptures into laughter followed by a roar of applause. For the new audience, it would be a new song, but for those who have aged with Amrit, listening to this song would be traveling through the nostalgic journey. The female fans in their forties would not miss singing along.
"I want to once again thank all those talented musicians and friends who have contributed to Nepathya's 25-year long journey. I would also like to thank all our listeners who have encouraged us," Amrit said. "With your wishes and inspiration, I along with my current bandmates are committed to continue and serve Nepali music to our capacity", he added.
Amrit is currently accompanied by Dhruba lama on drums, Suraj Thapa on Keyboards, Subin Shakya on Bass, Niraj Gurung on Guitars and Shanti Rayamajhion Madal. Myrepublica