Drone video captures stingray's narrow escape from shark
January 13, 2018 | 3:17 pm&nbsp&nbsp&nbsp&nbsp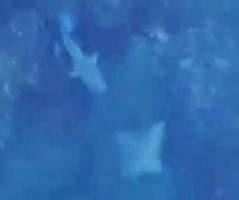 January 12: A man taking drone video of the water off the coast of Australia captured the moment a stingray narrowly escaped from a stalking shark.
Jason Cassidy captured video Thursday off the coast of Queensland's Kings Beach showing a shark swimming through the water toward a stingray.
The predator gets uncomfortably close to the ray, but the would-be prey abruptly switches directions and appears to evade the shark.
The stingray seems to have escaped, but Cassidy's drone lost track of the animals, so the ultimate outcome of the chase is unknown. Upi.com