Uraon dramaturgy discussed in Sunsari
January 13, 2018 | 3:39 pm&nbsp&nbsp&nbsp&nbsp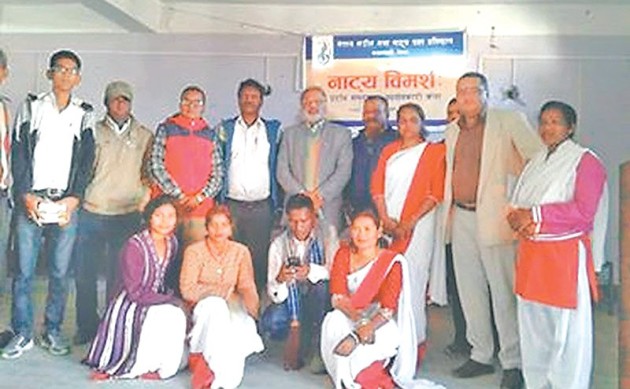 Sunsari / Jan 12 : The Nepal Academy of Music and Drama this week organised a discussion on folk arts, dramaturgy, and culture of the marginalised Uraon community at Inaruwa in Sunsari. The Uraon community is mainly based in Inaruwa and is on the verge of dying out.
The event also saw a cultural programme where the musicians and artists gave performances representing the Uraon tradition. During the event, Ramlal Uraon, the expert linguist, presented a brief paper based on the cultural practices, acting, and dramaturgy of the community.
The event also saw the presence of the chief of the Academy's Drama department, Rameshranjan Jha, who speaking at the event said that even though the tradition of writing a drama and staging it is rare in the Uraon community, a number of festivals that the community celebrates feature skills derived from Bharatnatyam.
"During the Karma Parwa, the Uraon men and women express themselves through various tics derived from the form of the drama," Jha said.
According to Jha, the event was part of the Academy's initiative to seek and preserve the various forms of drama popular among marginalised and endangered communities. Source: The Kathmandu Post