Clean Nepal is possible as over 23 million people are willing to contribute: Khem Sharma
January 14, 2018 | 6:33 am&nbsp&nbsp&nbsp&nbsp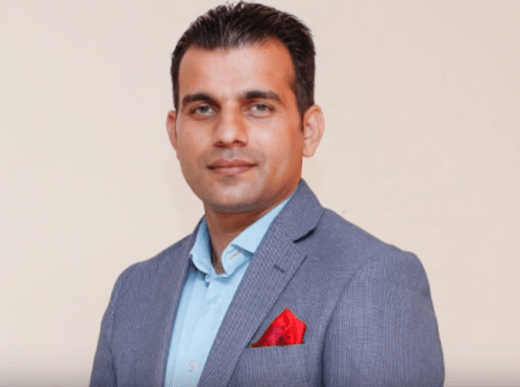 Kathmandu : Khem Sharma is a young energetic professional, who believes that nothing is impossible if you do something from your heart. After learning skills in Australia on ways of effective cleaning, he is committed to make clean Nepal. After undertaking some good model cleaning of Tribhuvan International Airport and Pashupati Nath Temple area, he is now trying to institutionalize his efforts by providing training and other enterprise development services to others. He strongly believes that as people have started to discuss and participate in the cleaning process, we can be able to make Nepal clean very soon. He talked with Nepalekhabar about his campaign and motivation for working in this field. Here are the excerpts:
Can you briefly tell about what you were doing in Australia?
I have gone to Australia as a student in 2008. I started sanitation work while I was studying. Initially, it was difficult but later that became the means of livelihood for me. I realized its importance and started mulling over how to institutionalize it. While working in the field, I got promoted gradually as I took the job seriously and worked sincerely. However, I was not satisfied with the job as I wanted to institutionalize it, so after completing my studies, I started Khem's Cleaning Services. Currently, more than 70 people from different countries are working in it.
What motivated you to launch clean-up campaign in Nepal?
Once we started the cleaning venture in Australia and got satisfaction from it, I started to think what I can do for my country and how I can transfer the skills here. As cleaning is my first business I have high respect for it. While visiting Nepal, I started to think what I could do here and did a lot of research in this sector. We started the work in Nepal by cleaning Bharatpur Airport back in 2015. After Bharatpur Airport, Non Residential Nepalese also showed interest in my work and we have done the cleaning of Tribhuvan International Airport Kathmandu, Pashupati Nath Temple area and Nepal Tourism Board, which got good coverage and has been able to send positive message across the world.
You have been able to show good results in a short time. Were there problems with the government mechanism and what have you been doing to institutionalize your initiatives?
I think the government mechanism was not working well as they did not have knowledge on proper use of right equipment in right work. While working abroad, we learnt how we can work effectively by using the right equipment in the right time thereby maximizing our efforts. We just replicated this learning here.
We have been working to institutionalize our learning. As we were aware that organizing some program or giving some orientation may not be sufficient, we have been working together with them to train them on how to work and on the proper use of equipment. As they were involved with us, they have been taking the issue seriously and have been working effectively once we pulled out from there.
What should be done to make the government staff responsible towards their duty so that you don't need to come to clean these places again?
I do not see the problem on the part of workers rather I see problem at the leadership level. For example, many people were assigned tasks without being given proper orientation and equipment. If you are starting a work without proper training and equipment, it definitely has implication in the quality of work. I see problems at the leadership but as we have recently got a newly elected leadership, I am hopeful that they will address the issue.
How difficult was it to convince bureaucrats about your work and did you get necessary support while accomplishing your work?
As we have been taking the leadership role, it was natural that we face problems. I have taken their doubts about our work as natural as they did not have the expertise in the field. We showed practical lessons and started getting support from them. For example, I have expertise in the cleaning field so if anyone comes and talks with me about something different, then I could also have been doubts about the subject matter. They have been very supportive once we have shown some examples. If you look now, people all over the country are very supportive towards cleanliness and the government is mulling to celebrate 2075 BS as National Sanitation Year. I think these are the results of our efforts. I recently held a meeting with the Mayor of Kathmandu Metropolis for collaboration. All the bureaucrats and politicians are very supportive as they have seen some of the models we have demonstrated.
What is your next mission and why you are motivated to continue your voluntary work in Nepal?
We are trying to launch this project across the country. Similarly, we have been running cleaning related training in our office. Likewise, we have also been providing supervision related services to business houses and hotels. In this way, we are trying to expand the scope of our work as we cannot continue voluntary services for a long time. Similarly, we are supporting those people who want to establish cleaning services. Yes the private sector is positive but they have not been able to mobilize the resources properly, so we are trying to bridge the gap. Most of the people are also positive in this regard. The debate related with cleaning has started which is a positive step and we need to continue it.
We are ready to go and support any field where they need our help. Our effort is to make all our infrastructure very clean. Even though we can't make international standard infrastructure we can make it clean. We are presenting our concept to the politicians and supporting them. If they get support from us they can reduce the cost for implementing the cleaning campaign. At the same time, we are also creating more jobs which will help towards increasing such services. We have been continuing with some voluntary work while also providing consulting services. We are also working to create more cleaning business which will create more employment opportunities and at the same time give benefit to the country. We have been trying to run it as a profession apart from running it as a social service.
How optimistic are you that we will be able to create clean Nepal in the coming few years?
During my interaction with people from different sectors, I feel very happy and optimistic that all people are prioritizing this sector. In the past, we were just briefing about our work but once we demonstrated it practically, people/organizations were very positive about it. They want to do it but they are not getting good suggestions so we are trying to bridge the gap. This is the priority of everyone so we should continue it. We should not hope that the system will change in a couple of days or weeks and continue our efforts so that we will be able to meet our goal.
What are you doing to break the misconception that cleaning is a low-level job and involve everyone in it?
We are trying to break the barrier. Many educated youths have been engaged in cleaning. In the past cleaning was taken as a dirty job as they were not using the right equipment but once we start professional cleaning service where you don't need to be dirty while cleaning, people are motivated toward it. Many college students and educated youths are involved in this profession. Currently, we are providing full time employment but we are working to create the environment where people can work as per their suitable time. Cleaning is an off hour job so we are trying to create environment for professionals and students to join the work for reducing stigma related with some work and earn money from it. The situation changed in a couple of months after we started the cleaning work. People are very much convinced from our work and have been paying keen interest. College students have been working in it which is also part of breaking the barrier. People are respecting the work. For example, you can see the Bagmati cleaning work where many well-to-do people have been involved in it.
How is your collaboration with NRN?
The NRN is very positive and we are trying to form a cleaning and sanitation task-force within NRN. NRN supported us for doing our work in the Airport and they are very positive in this regard. I am also a NRN, so we are working very closely and I hope the NRN is also mulling to announce some programs in this regard.
Do you have any message to the readers?
Let's join hands towards cleaning the society. Let's not think about international standard at the moment, but we need to contribute something at the moment. If our country prospers in some years then we can get benefit from it provided we contribute at this moment. Let's not expect from the country rather let's contribute to the country for the sake of our future. If our 23 million plus people think in this way and move in this direction then everything is possible, so I request all to contribute for the sake of our future.
(Editor's Note: How do you find this interview; please send your comments at news@nepalekhabar.com. Nepalekhabar.com has been promoting positive ideas and thoughts in the society, so, please feel free to share your opinion or thoughts with us, we will provide suitable space for positive endeavors).