PM Deuba inaugurates Godavari Barha Rashi Makat Fair
January 14, 2018 | 9:01 pm&nbsp&nbsp&nbsp&nbsp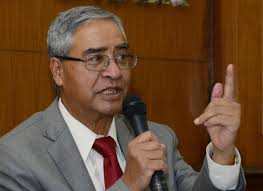 Dhangadi / Jan 14: Prime Minister Sher Bahadur Deuba has said that the parliament would get its full shape after National Assembly election.
Inaugurating the 'Godavari Barha Rashi Makar Fair-2074' at Godavaridham, the major pilgrimage of province no 7, here today, Prime Minister Deuba clarified that they will remain in the government till National Assembly election.
He said that he would provide possible support for the development of Godavaridham.
Similarly, newly elected member of House of Representatives, Naradmuni Rana, urged the Prime Minister to pave ways as per the people's mandate got from the elections.
According to the Fair Organising Committee, Barha Rashi Darsan Makar Fair' has been organized this year with a plan of organizing Mahakumbha Fair in every 12 years, Ardha Kumbha Fair in every six years and Barha Rashi Darshan Makar Fair every year. The fair will run from January 15-26.RSS