Indian Minister Swaraj wraps up two-day Nepal visit; Swaraj's visit will help forward Pancheshwor Project
February 2, 2018 | 9:43 pm&nbsp&nbsp&nbsp&nbsp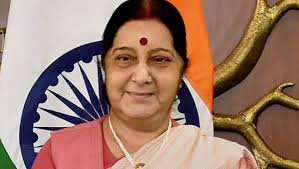 Kathmandu / Feb 02: Indian External Affairs Minister Sushma Swaraj returned home on Friday, wrapping up her two-day 'goodwill' visit to Nepal. She had arrived in Kathmandu on Thursday afternoon.
During her stay in Nepal, the Indian minister held meetings with various political leaders including CPN-UML Chairman KP Sharma Oli, who most likely will be the next Prime Minister, CPN (Maoist Centre) Chairman Pushpa Kamal Dahal and leaders of Madhes-based parties.
She also held a meeting with Prime Minister and Nepali Congress President Sher Bahadur Deuba and paid a courtesy call on President Bidya Devi Bhandari.
She hailed the leaders for successfully holding the elections in Nepal and discussed enhancing bilateral cooperation and taking the age-old and historical partnership between Nepal and India forward.
Swaraj had said that the Nepal-India relationship is of such a nature that no excuse was needed to visit each other, according to a tweet by Indian Embassy in Nepal. Another tweet mentioned that she had come to Nepal to visit friends and her visit was not guided by any agendas.
Swaraj's visit comes at a time when Nepal is preparing to form a new government under the Left Alliance—comprising CPN-UML and CPN (Maoist Centre)—following successful conduct of three tier elections after the promulgation of new constitution.
After landing in Kathmandu, Minister Sushma Swaraj held a one-to-one meeting with CPN-UML Chairman KP Sharma Oli for more than an hour before delegation-level talks between top UML leaders and officials from India at Hotel Soaltee on Thursday evening.
Swaraj's visit will help forward Pancheshwor Project
Foreign affairs experts have said that the old-age friendship between Nepal and India would further strengthen from the visit of Indian External Affairs Minister Sushma Swaraj.
At a program organized here Friday, they stressed that Nepal should seek support from India at a time when Nepal is moving head on the path of economic prosperity.
On the occasion, CPN-UML leader Dr Rajan Bhattarai said that although the Indian External Minister's current visit to Nepal was completely a goodwill visit, Swaraj held meetings with the leaders regarding friendly relation between Nepal and India with the message of Indian Prime Minister.
He said that Nepal has now focused its attention on economic development and prosperity after political stability.
Similarly, Chairperson of Rastriya Prajatantra Party (Democratic) Pashupati Shumsher JB Rana said Nepal should play a role to strengthen relation with India as Nepal has a large scale of trade with India.
Stressing the need of developing hydropower sector, he said the visit of the Indian External Affairs Minister would help to forward Pancheshwor hydropower project.
Likewise, former Ambassador to India Dr Durgeshman Singh pointed out the need to strengthen Nepal-India relations in an environment conducive.
In another program organized on Friday, Rastriya Janata Party-Nepal leader Laxmanlal Karna made it clear that his party is not likely to join the KP Sharma Oli-led government in the current circumstances. RSS