Emu surprises beach-goers by joining them for a swim
February 3, 2018 | 9:21 am&nbsp&nbsp&nbsp&nbsp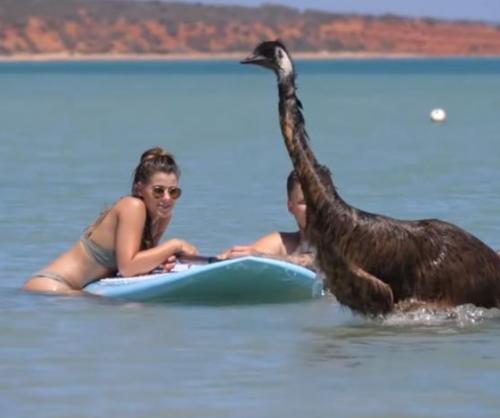 Feb 02: A group of tourists paddleboarding off an Australian beach were shocked when a wild emu came swimming over to enjoy the water with them.
A video filmed by Shayne Thomson, a deckhand on the Catamaran Cruises Aristocat 2, shows the large flightless bird swimming right up to a pair of British tourists holding onto a paddleboard off Monkey Mia Beach in Western Australia.
The video shows the emu swimming through the water with no apparent regard for the nearby onlookers.
The backpackers told WA Today their encounter was "more Aussie than if Crocodile Dundee had offered to buy them a beer." Upi.com