Petition to scrap 'limiting' film production rules
February 3, 2018 | 9:41 am&nbsp&nbsp&nbsp&nbsp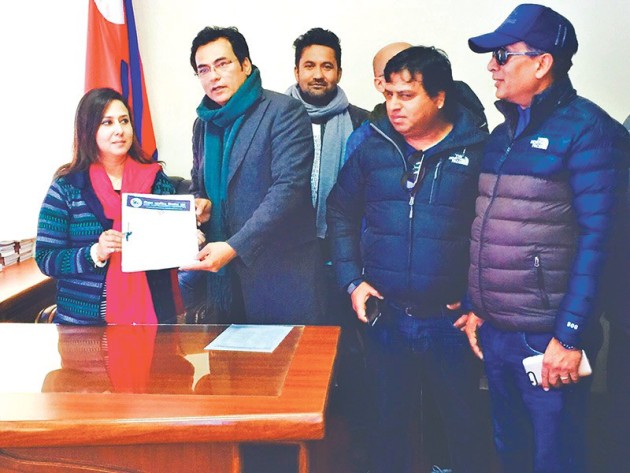 Kathmandu / Feb 02: Anyone who wants to direct a movie in Nepal should have at least been trained in a recognised film school or should have also accumulated at least 10 years of experience of working in various capacities in the Nepali film industry, according to a code of conduct policy rolled out by the Film Development Board two years ago.
The same policy also bars new producers from producing a movie without prior experience. "This code of conduct has invited many legal and practical hiccups," said the chairman of Film Producers Association, Akash Adhikari, "That is why we are petitioning for the policy to be scrapped."
A team led by Adhikari had arrived at the office of the film board at Chabil this week to submit their petition. Along with the scrapping of the policy, the producer association also requested the Film board to make the censorship process scientific, implement the National film policy, and provide legal framework to make the box office transparent and develop programmes to subsidise films portraying critical socio-political issues. After receiving the request from the producers, the chairman of the film board, Nikita Paudel, said that the requests were valid and the board will review the requests promptly.
Rajkumar Rai, the previous chairman who had implemented the policy two years ago, was himself a member of the Film Producers Association. Insiders of the industry say that the policy was introduced in part to insulate Kollywood from newcomers who are trying to break into the industry. "The policy was implemented because the established members of the film fraternity were insecure of the changes that have been ushered in after the 2006 Jana Andolan," said film director Manoj Pandit, "Any policy that stops creative expression should be removed and I heartily welcome the move made by the Film producers." Source: The Kathmandu Post