Province 3 CM Poudel takes oath of office and secrecy; Prithvi Subba Gurung appointed as Province 4 CM
February 12, 2018 | 7:49 pm&nbsp&nbsp&nbsp&nbsp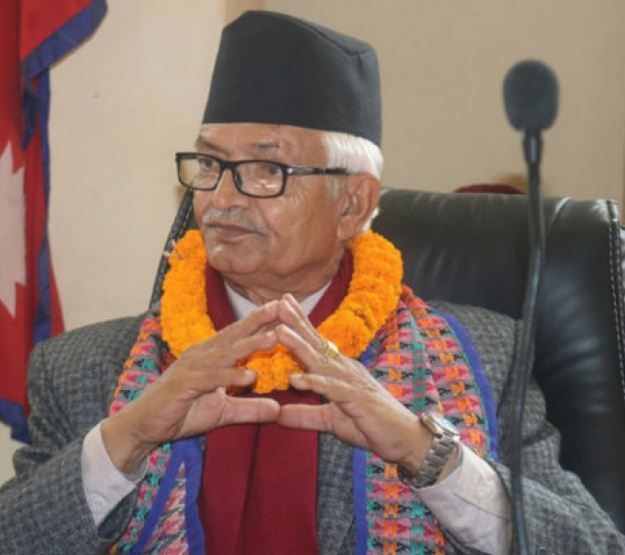 Hetauda / Feb 12: CPN-UML Parliamentary Party leader Dor Mani Poudel took the oath of office and secrecy as the Chief Minister of Province 3 on Monday.
Poudel was the first person to be appointed as the Chief Minister among the seven provinces of federal Nepal. Preparations are underway to appoint Chief Ministers in other provinces as well.
Province Chief Anuradha Koirala administered the oath to Poudel amid a function this morning. Speaker Sanu Kumar Shrestha was also present on the occasion.
It has been learnt that Poudel will assume the office at around 11 am today. Poudel is an expert of local governance and was elected as the Mayor of Hetauda Municipality in the local level election in 1992 and 1995. He had also worked as the Chairman of Nepal Municipality Association for 15 years. He was appointed as the member of Local Level Restructuring Commission (LLRC) after the promulgation of a new constitution in 2015.
Prithvi Subba Gurung appointed as Province 4 CM
Meanwhile, CPN UML provincial assembly member Prithvi Subba Gurung has been appointed as the Chief Minister of the Province 4 on Monday.
Province Governor Baburam Kunwar designated Gurung as Chief Minister of the province as per Constitution's Article 168.2 after parliament members from the left alliance voted in majority supporting Gurung.
Out of the total 60 Provincial Assembly members, 27 from CPN UML and 12 from CPN Maoist Centre signed the proposal seeking appointment of Gurung as the Chief Minister.
With the appointment of Chief Minister, the process of provincial government formation has also begun in the Province. Gurung is set to expand the cabinet after taking oath of the office on February 14, 2018.
Interacting with the media following his appointment, Gurung remarked that the cabinet would be of modest size. Moreover, Gurung committed to enforce an appropriate law as per the Province's geography incorporating all ethnicities and to develop a five-year-plan within six months to build a prosperous province.