Finance Minister suggests master plan for prosperity
November 3, 2018 | 9:19 pm&nbsp&nbsp&nbsp&nbsp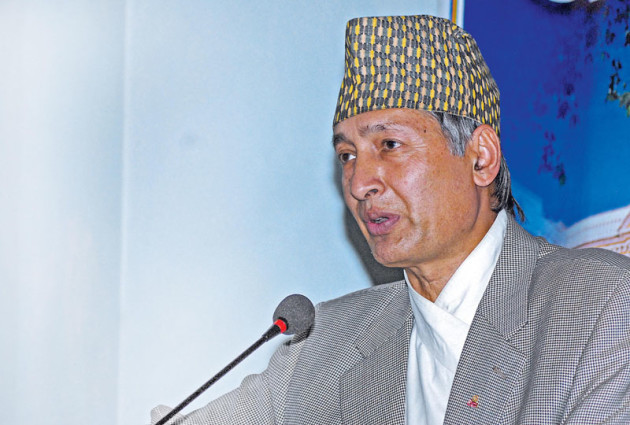 Kathmandu / Nov. 3: Finance Minister Dr Yubraj Khatiwada has said Guthi Sansthan should be developed as a modern social corporation.
Speaking at a programme organized on the 55th anniversary of Sansthan in the capital city today, Minister Khatiwada pointed out the need for timely changes in it by safeguarding the existence of the Sansthan. On the occasion, he asked the office-bearers of Guthi Sansthan to move ahead on the path of prosperity by making its master plan.
"Social capital is the key foundation for prosperity. Guthi Sansthan should contribute to the country's prosperity. I wish your attention to this issue," Minister Khatiwada added.
Saying that it was unfortunate to remain idle without making income generation in the name of property protection, the finance minister expressed his readiness on behalf of his ministry for the development of the Sansthan.
On the occasion, Secretary at the Ministry of Land Management, Cooperative and Poverty Alleviation Gopinath Mainali voiced for the management of the Sansthan in a new manner adding that strategic plan was needed for the utilization of the entire property. RSS