Tihar festival begins from today; Around 300 crows gathered in conference
November 5, 2018 | 10:44 pm&nbsp&nbsp&nbsp&nbsp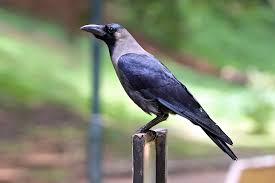 Kathmandu / Nov 5: Tihar, the second largest festival of Nepali Hindus is beginning from today. Also known as Yam Panchak, the festival is observed for five days. The first day of Yam Panchak is observed as Kaag Tihar by feeding crows, regarded as messengers in Nepali society. The second day is Kukur Tihar — the day is observed worshipping dogs. The third day is Gai Tihar and Laxmi Puja worshipping cows and Laxmi, the goddess of wealth.
The fourth day of Tihar is known as Goru Puja — worship of oxen, while the fifth and the final day is Bhai Tika — the day when brothers receive Tika from their sisters.
However, people from the Newari community celebrate the fourth day of Yam Panchak as Maha Puja — worship of own soul. The auspicious hour for Bhai Tika this year is 11:55 am on November 9, according to the Nepal Calendar Fixation Committee.
Tihar is also known as the festival of lights. During the festival, people decorate their houses with colorful lights, flowers and oil lamps. They celebrate the festival eating various delicacies, including sweets and sel roti.
Playing deusi-bhailo and worshipping various animals and birds are significant aspects of this festival. The government has announced a three-day public holiday starting from Laxmi Puja to Bhai Tika from November 7 to 9.
Around 300 crows gathered in conference
Meanwhile, a Crow conference was organized today in the capital to mark the occasion of Kaag Tihar, the first of the five days of Yamapanchak.
The 15th Crow conference was held by gathering around 300 crows in Ratna Park, Kathmandu this morning.
The Music Association of Nepal organized the event where Ramesh Dulal of Ilam gathered flock of crows by emulating their sounds.
Dulal has been organizing the Crow conference on the occasion of Tihar for the past 14 years. The crow is worshipped today to avert grief. RSS