Govardhan Pooja, Mha Pooja observed today; Sankhadhar Sakhwa: campaigner of justice and equality, says PM Oli
November 8, 2018 | 9:16 pm&nbsp&nbsp&nbsp&nbsp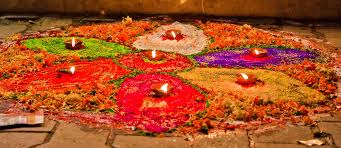 Kathmandu / Nov 8: Govardhan Pooja is being marked by Hindus throughout the country on the fourth day of Tihar festival, today.
Govardhan Pooja is observed today by making small hillock out of cow dung representing the Govardhan Parvat (mountain). This ritual is linked to the Hindu God, Lord Krishna, who according to the legend lifted the mountain with his little finger and protected the people of Gokul from torrential rains caused by Indra, the God of Rain.
Likewise, people prepare a mixture of cow dung and ochre formed into a paste and apply the same on their courtyards and floors to purify their homes.
Similarly, ox is also worshipped today as the animal provides vital support in different agricultural works in Nepal which is predominantly an agricultural country.
Likewise, Mha Pooja — worship of oneself — is also celebrated today by the Newar community across the country. Mha Pooja falls on the Newari New Year based on the Newari calendar, Nepal Sambat.
Sankhadhar Sakhwa: campaigner of justice and equality, says PM Oli
Meanwhile, Prime Minister KP Sharma Oli has said that Sankhadhar Sakhwa, founder founder of Nepal Sambat, was the campaigner of justice and equality.
In the message today, Prime Minister Oli wished for happiness, peace, prosperity and progress to all Nepalis living in and outside the country on the occasion of Nepal Sambat 1139.
Saying Nepal Sambat is Nepal's indigenous calendar and its progenitor Sakhwa had laid a notable foundation of social change in the contemporary society by absolving the people of their debt," he said that Sakhwa's contribution is still relevant in Nepali society.
I want to specially remember the national hero, founder of Nepal Sambat, and progressive personality, Sakhwa, who devoted himself for the development of Kathmandu Valley", reads the message. RSS