Sama-Chakeva festival begins from today
November 9, 2018 | 8:40 pm&nbsp&nbsp&nbsp&nbsp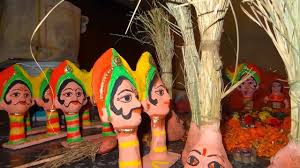 Kathmandu / Nov 9: A festival that marks the affectionate brother-sister relationship in the Maithali communities, Sama-Chakeva, has begun from today.
On the first day of the 10-day festivity, the womenfolk collect clay and make and decorate the idols of Sama-Chakeva with various colors.
They later submerge in the pond or river or in the recently-ploughed land on the eleventh day of full moon to mark the end of the festival.
Carrying the same idols in the bamboo baskets, they sing chorus in Mithila language and dance across roundabouts, thoroughfares, public spaces and temples throughout the festivity.
While observing the rituals, they also wish for the long and healthy life of their brothers.
The married women visit their natal home for the celebration whiles those having no brothers, they observe the festivity with the brothers folk in their locality.
The legend has it that the Sama, a young daughter of the Lord Krishna, was once falsely accused of wrongdoings and cursed to be a bid. Her brother, Samba, took fearless action out of love to his sister which finally brought Sama back to human form.
Celebrated in various districts across Terai including Mahottari, Sarlahi, Siraha, Dhanusha, Saptari and Parsa, the festival is also observed with verve in many bordering towns in India.
In Mithilanchal, it usually begins a day before the Chhat festival. RSS