Forced religious conversion a matter of concern: Minister Baskota
November 12, 2018 | 9:08 pm&nbsp&nbsp&nbsp&nbsp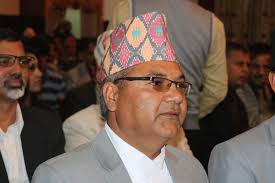 Kavre / Nov 12: Minister for Communications and Information Technology Gokul Prasad Baskota today expressed sadness over the ongoing trend of forced religious conversion in the country.
"Nepal has a diversity of religion and culture and the political aim is to provide justice, equality, create harmony and safeguard lives of the people and all animals," he said while speaking at the Religion Awakening Festival, 2075 organised here by the Srikrishna Pranami Sewa Samiti.
He also pointed out that safeguarding the planet and people's lives are main challenges of the day.
"Lifecycle of living animals is dependent on the planet. So it is the responsibility of all to safeguard the planet and the people," he said. Minister Baskota also urged all to take part in this initiative. RSS