Chhath observed with much fanfare; Prez and VP attend Chhath Pooja at Kamalpokhari
November 13, 2018 | 9:17 pm&nbsp&nbsp&nbsp&nbsp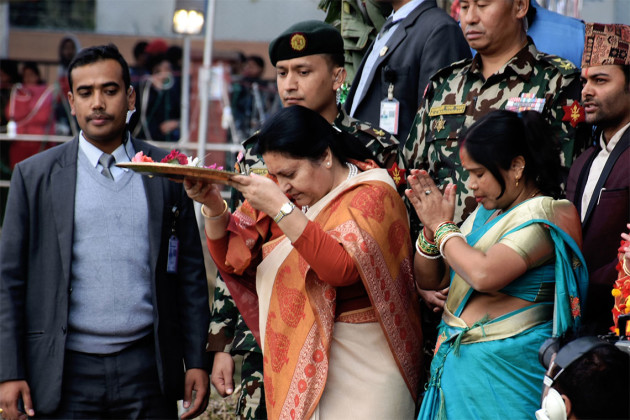 Kathmandu / Nov 13: Chhath, the festival dedicated to Sun God, was observed with great zeal and rigour across the Tarai region and some hill districts including Kathmandu on Tuesday.
On the occasion, rivers and ponds of Janakpur, Rautahat and Kathmandu were embellished with lights.
Chhath is a festival mainly associated with the people from Tarai community, where devotees offer prayers to the setting sun.
Janakpurdham has become the centre of attraction for the domestic and international tourists.
Today is the main day of the four-day Chhath festival.
Chhath was celebrated with much fanfare in Guheshwori, Kamal Pokhari and Bagmati River in Thapathali and Tankeshwor in the Kathmandu Valley.
Here are some of the photos from Chhath celebration captured in Janakpur and Rautahat.
Prez Bhandari and VP Pun attend Chhath Pooja at Kamalpokhari
Meanwhile, President Bidya Devi Bhandari and Vice-president Nanda Bahadur Pun reached Kamal Pokhari in the capital to offer pooja on the occasion of Chhath festival this late afternoon.
President Bhandari and Vice President Pun offered argha to the setting sun on the occasion. The program was organized by Kamal Pokhari Chhath Worship Committee. The pokhari (pond) has been decorated with shining lights and flowers for the festival.
It had been a trend since the recent past for the President, Vice-president and the Prime Minister to attend Chhath celebrations in the capital. However, Prime Minister KP Sharma Oli could not attend this year due to sickness.
At a function held on the occasion five social figures were feted. President Bhandari honored lyricist Ratna Shamsher Thapa, travelogue writer Ghanashyam Rajkarnikar and social workers Indra Dev Mishra, Suresh Jain and Bhakta Bahadur Singh in recognition of their significant contribution to their respective sectors.
Lawmaker Gagan Thapa, who was also attending the program, said that the festival that sees participation of the people from the hill and mountain region as well has promoted harmony among the people.
Organizing committee coordinator Rajendra Singh shared that the Chhath celebrations have been taking place on the bank of the pond since the past eight years. The pond has been cleaned up and given a new look since Chhath pooja and celebrations began on its premises. RSS