Tourism Minister urges to allow NAC flying to China
November 13, 2018 | 9:17 pm&nbsp&nbsp&nbsp&nbsp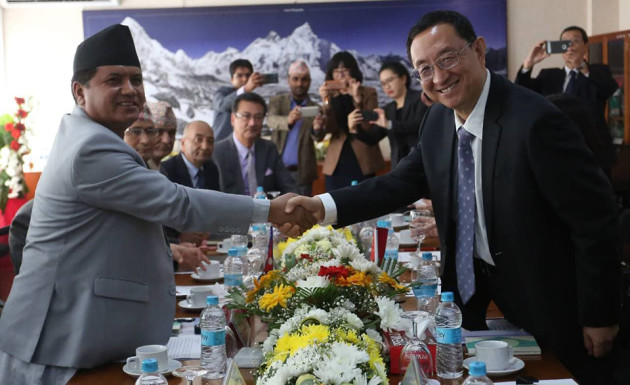 Kathmandu / Nov 13: Tourism Minister Rabindra Adhikari has urged Chinese Culture Minister Luo Shugang to allow national flag carrier Nepal Airlines Corporation to fly to China.
Adhikari made such a request during his meeting with the Chinese minister today at his office at Singhdurbar, officials said. "Minister Adhikari urged Luo to allow NAC to fly to China. In response, the Chinese minister said he would take up the matter to the concerned Chinese authorities," Joint Secretary of the Ministry of Tourism Ghanshyam Upadhaya informed.
Currently, the NAC does not have flights to China. However, four Chinese carriers—Air China, China Eastern, China Southern and Sichuan Airlines—connect the mainland China with Nepal.
Even though the NAC had sought permission from the Chinese side several times to resume flights to Guangzhou, China, no progress has been made so far, according to officials. China is Nepal's second largest source market for tourists after India. Earlier, the national flag carrier used to fly to Shanghai but was compelled to discontinue the route due to a lack of aircraft in 2008.
Amid growing air connectivity between Nepal and China, the two countries are mulling to re-launch direct flights between Chinese major cities and Kathmandu, according to officials. On the occasion, Tourism Minister Adhikari expressed gratitude for the Chinese assistance in building Pokhara Regional International Airport and Gautam Buddha International Airport.
"We are grateful for China's continuous support to our physical infrastructure development," the minister said. The Chinese minister said that China will continue support to Nepal in the days to come. During the meeting, Tourism Minister Adhikari told Luo that the Nepal government has already announced to observe 'Visit Nepal 2020' and expects China's support for the same.
Chinese Culture Minister Luo, who is on a four-day visit to Nepal, is attending the opening ceremony of '8th China Festival in Nepal' at Army Officer's Club in the capital, which is going to start today evening. The Chinese delegation will also meet Prime Minister KP Sharma Oli during the visit. Courtesy: Myrepublica