Singha Durbar to be retrofitted within a year; Renovation of 19 monuments complete in Swayambhunath area
November 14, 2018 | 9:03 pm&nbsp&nbsp&nbsp&nbsp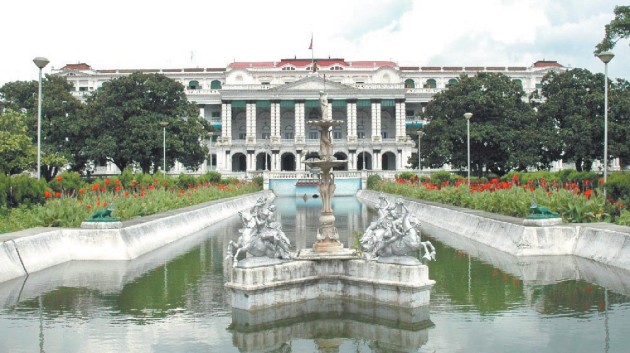 Kathmandu / Nov 14: Retrofitting of north, east and southern parts of Singha Durbar, the main administrative hub of the country, would be completed within a year.
Built in 1908, the historic building was damaged by the Gorkha earthquake in 2015. Although retrofitting of north, east and south parts of the building was underway for the past six months, it has only been finalized that the west part of the building could be retrofitted.
According to the National Reconstruction Authority, study was underway for the retrofitting of the west part of Singha Durbar after receiving a preliminary report that west part of the building could be retrofitted. Joint-Secretary of NRA, Rajuman Manandhar said that Infrastructure Engineering Research and Consultant Pvt Ltd has been assigned to carry out further study about the retrofitting of the west part of the building.
Renovation of 19 monuments complete in Swayambhunath area
The Swayambhu Management and Protection General Committee has completed the renovation of 19 different heritages in Swayambhunath area.
A chaitya in front of the Shanti Pond, Bayupur, Basupur, a bell in front of the Swayambhu Chaitya, and the roof of Basundhara Temple among others were renovated.
As stated by the Committee, restoration works were carried out with the help of several donor agencies and internal resources were also mobilised for the same.
Monuments like Anantapur and Pratappur were refurbished with the help of the Department of Archeology while UNESCO supported the repair of Bahumangaldwar Chaitya.
The Committee has so far spent around Rs 50 million for the renovation works.
Earlier, the Committee had got permission from the Department to restore the damaged structures to their original forms. The renovation work at the ancient Shantipur Temple had begun two years ago at the cost of Rs 40 million. The shrine that lies at a distance of around 300 metres from the Swayambhu Mahachaitya, the stupa of Swayambhunath, is the place for performing tantric rituals and repair works were delayed in the absence of finding skilled human resources on time.
Most of the monuments in this UNESCO World Heritage Site were damaged by the April 2015 earthquake and subsequent aftershocks.
A total of 14 districts including three districts in Kathmandu Valley have been considered the most-affected districts by the 2015 Gorkha quake.
According to the Department, the quake had inflicted damages on 753 heritages which also include the historic Dharahara (Bhimsen Tower), Ranipokhari and Kasthamandap, and there remain disputes regarding the restoration of some heritages including these three. RSS