International Tripitaka recitation begins in Lumbini
November 14, 2018 | 9:02 pm&nbsp&nbsp&nbsp&nbsp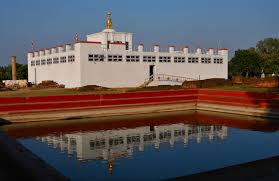 Rupandehi / Nov 14: The first international Tripitaka recitation program has begun in Lumbini, the birthplace of Gautam Buddha.
The program jointly organized by the Lumbini Development Trust; All Nepal Bhikkhu Association; The American Buddhist Society and the Thai Budhha Vihar has started on the premises of Mayadevi Temple. Bhikkhu, nuns, Lamas and votaries from 18 countries are taking part in the three-day religious event.
Thailand Ambassador for Nepal, Bhakavat Tansku; LDT vice chairman bhikkhu Metteyya; lawmaker Durga Upadhyay; province State Assembly member Fakruddin Khan and All Nepal Bhikkhu Association chair Bhikkhu Maitri jointly inaugurated the programme.
On the occasion, the Thai ambassador said this type of programme would help promote and spread Buddhism in the world. He said he was very much pleased to be here to inaugurate the event as it was a matter of pride for any Thai national to set their feet at the birthplace of the Buddha.
The program held in this sacred place would keep a significant meaning for the followers of Buddhism, he added.
LDT vice chair Metteyya said the Buddhism was spreading in Nepal because of efforts of Bhikkhus and Buddha Pariyatti Siksha.
All the participants of the program will join a peace procession to be held on a concluding day. The Tripitika is the major religious text of the Buddhism and it compiles the teachings of Buddha until he attained the Mahaparinirvana.
The Maya Devi temple was adorned with banners, garlands and flowers for the special programme. The book originally written in the Pali language has been translated into several languages.