Govt calls back envoy to Israel, South Africa; Friendly relations with neighbors to be boosted: Dr Bhattarai
November 15, 2018 | 8:57 pm&nbsp&nbsp&nbsp&nbsp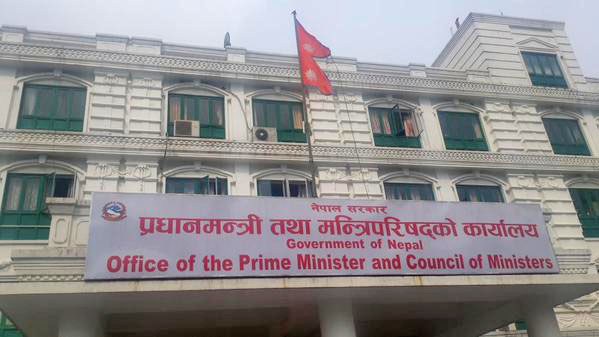 Kathmandu / Nov 15: The government has called back the Nepali envoys to Israel and South Africa. Briefing the recent cabinet's decision to the journalists on Thursday, Minister of Information, Communication and Technology Gokul Baskota, the government has decided to call back envoy to Israel, Neeranjan Thapa and envoy to South Africa Amrit Rai.
RPP leader Thapa was appointed to the post during the government led by Pushpa Kamal Dahal. He has been given three weeks to return country. The government has recommended the name of Anjan Shakya in the post. Earlier, the government had already recommended the name of Nilamber Acharya for India, Uday Raj Pandey for Malaysia and joint secretary of Ministry for Foreign Affairs Krishna Prasad Dhakal to UAE.
Simialrly, the government has transfer 71 ropani land of late King Birendra and his family under purview of Nepal Trust. Likewise, the government has decided to provide Rs one million relief to the family of Ram Bilas Mahato, who died during the scuffle between cadres of Nepali Congress and ruling Nepal Communist Party in Sarlahi. The government will bear the medical expenses of the injured.
Friendly relations with neighbors to be boosted: Dr Bhattarai
Meanwhile, foreign affairs advisor to the Prime Minister, Dr Rajan Bhattarai, has committed to moving ahead by maintaining friendly relations with both the Northern and Southern neighbors.
Speaking in a face to face program organized in the capital on Thursday, Dr Bhattarai added that age-old ties with neighbors will be enhanced by keeping the national interest in the center.
He opined for taking more advantages from both the rising powers China and India what we are yet to be benefited.
Expert Bhattarai added that high level visit from China to Nepal will take place very soon.
On another note, Dr Bhattarai, who is also the EPG (Eminent Persons' Group) member expressed his confidence on the implementation of the EPG report. RSS