Naulin makes good strides in a year
November 16, 2018 | 10:07 am&nbsp&nbsp&nbsp&nbsp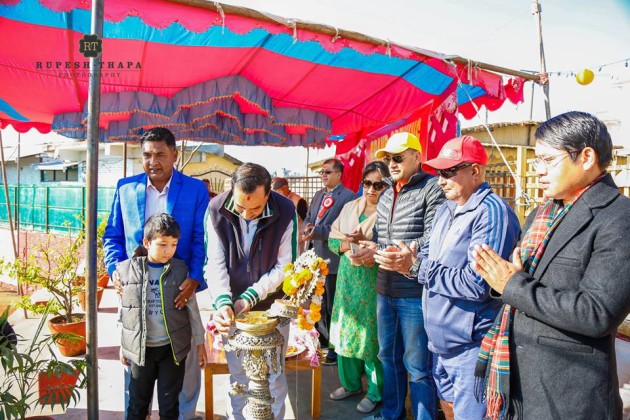 Kathmandu / Nov 16: It seemed impossible when Managing Director of Naulin Sports Villa Kishor Thapa announced that the Villa will provide tennis training through international coaches but the statement has come true within a year of operation.
Naulin Sports Villa was established on the landscape of 5 ropanis under the supervision of three lawn tennis coaches. With the aim of developing lawn tennis, Naulin is setup within the rules and regulations of the International Tennis Federation (ITF) consisting of two doubles and one singles court. The Villa started its journey a year ago amid speculation that whether having an international level tennis court in the outskirt of the city would be a good idea but the Villa has been able to set remarkable milestones within a year.
Addressing the grand opening of the Villa a year ago, feeling a bit nervous from the comments of people about the future of it, but committed for promoting tennis sports in the country, the Managing Director Thapa said, "I could have started other ventures with the aim of making good profit only, but I decided to establish tennis courts with the objective of promoting healthy community." However, the confidence level of Thapa has gone up with the milestones set by the Villa although it is yet to give good returns.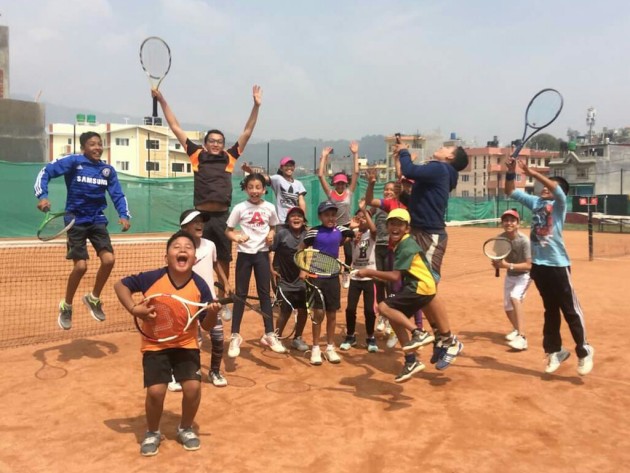 Apart from regular courses of tennis for its members, the court has introduced Tennis Training Sessions for school students and housewives as the Villa believes tennis should reach every nook and corner of the society for promoting healthy living. "We want to reach all age groups and connect them with the sports, so we have started tennis training for kids and housewives," Thapa shares. Five under-12 children, who are members and undergoing regular practice, participated in two international tournaments; 12th KETF U-12 Series 1 in Sunchang Tennis Court, Sunchang-Gun from 16 to 20 August 2018 and 12th KETF U-12 Series 2 in Yonggu Tennis Part, Yanggu-Gun South Korea from 21 to 25 August 2018.
The Villa hosted the first IME JTI Grand Junior Open Lawn Tennis Tournament held from May 20-26, 2018. Similarly, the Villa organized 1st Naulin/JTI Junior Tennis Championship from 09 to 13 October 2018. 83 players from different parts of the country took part in the five-day event. The Villa is also organizing close camp for soft tennis.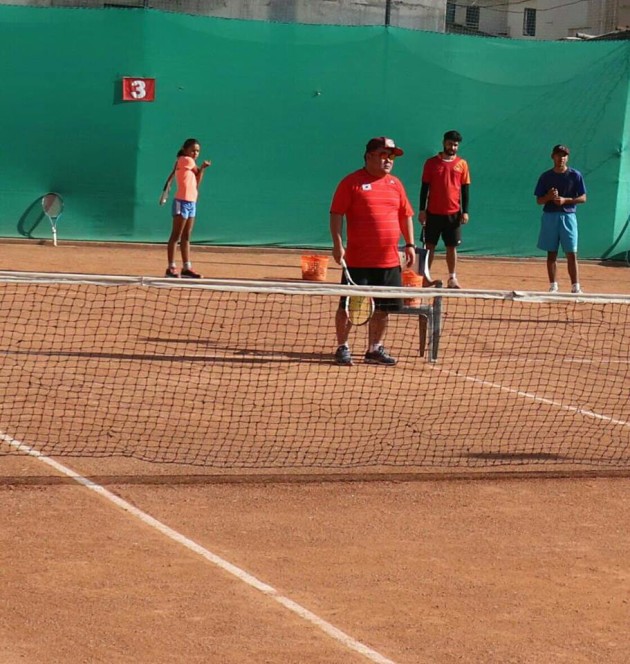 To add more milestones to its fold, the Villa, in collaboration with Nepal Soft Tennis Association, organizing a training program for professional players from October 25 to December 24, 2018 by Korean trainers. "Getting opportunity to participate in a training program by an International Coach is a really good blessing for us as we learned various techniques and got the opportunity to correct our mistakes," shared a participant of the training.
Encouraged from all these successes, the Villa is planning to have an open Tennis Competition for all age groups within a year. Similarly, the Villa is also adding one more tennis court to accommodate more players. "I am encouraged that many things happened within a year thanks to the support from all the stakeholders and have committed to add additional facilities to make it more professional meeting international standards," Thapa shared while instructing the contractor about the layout of the new tennis court.
Thapa shared that he will bring the latest technologies and continue to bring international coaches to provide quality training to the players. "I hope one day our members will bring International Medals and I am committed to create conducive environment for them. I am also thankful to the relevant authorities for their support," he added.