Nepal stresses safeguarding the rights of migrant workers
November 16, 2018 | 8:55 pm&nbsp&nbsp&nbsp&nbsp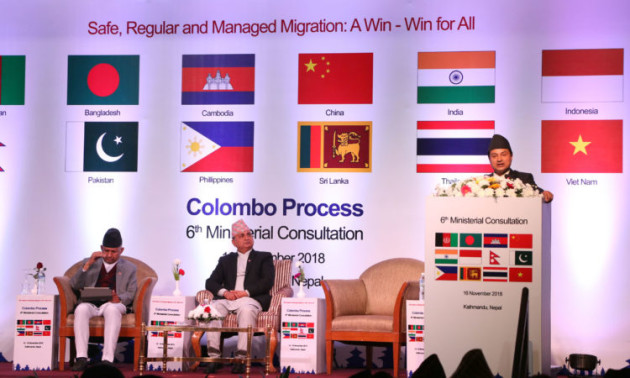 Kathmandu / Nov 16: Deputy Prime Minister and Defense Minister, Ishwor Pokhrel said that imparting skills to aspiring migrant workers was important. Addressing the Colombo Process meeting at Hotel Soaltee, Pokhrel said that foreign employment and remittance played an important part in the country's economy. "Hence, it is crucial that all stakeholders play an important role to safeguard the rights of migrant workers," he said.
According to a 2017 data by the United Nations, remittance contributes to 30 per cent of Nepal's GDP.
The DPM added that the government was committed to protect the rights of migrant workers and the state had to be more sensitive towards women migrant workers. Likewise, he said that it was time to end a process where migrant workers cough out money for foreign employment.
The Colombo Process is platform of 12 Asian nations to provide skilled migrant workers from Nepal, Afghanistan, Bangladesh, Cambodia, China, India, Indonesia, Pakistan, Philippines, Sri Lanka, Thailand and Vietnam. Ministers from four countries participated in today's meeting.
Nepal's minister for Labor, Employment and Social Security, Gokarna Bista said that Nepal was bringing new programs to safeguard the rights of migrant workers.
Stating that safe and dignified labour migration was receiving the attention it deserved from the international community which is evidenced by the inclusion of the international migration related elements in the SDGs and the Global Compact for Safe, Orderly and Regular Migration to be adopted next month, he shared that Colombo Process recommendations have been incorporated in the draft GCM framework document.
"The Colombo Process marks its fifteenth year of existence since its inception in 2003. It is high time to reflect on the fundamental principles, relevance and effectiveness of the Process. We need to evaluate whether we have been able to fulfil our objectives. As we chart our way forward, these lessons should guide our activities so they are result-oriented with visible outcomes that make a difference to the migrant worker and their families," the Labour Minister insisted.
"We have learnt that a few common challenges such as high recruitment costs, contract substitution, health and safety of migrants are better addressed collectively and deserve our attention," Minister Bista said, adding that in this context bilateral labour instruments that include clear provisions on basic terms of employment as per the international labour standards such as minimum wages, employer pays model, insurance and social security coverage would be required.
"We all know that some categories of workers are more vulnerable than others and merit special attention and protection measures. In particular, low skilled workers and women workers are the most vulnerable, and as members of CP we should urgently seek ways for collaboration to jointly address this issue," he said.
Minister Bista underscored the need to develop a deeper understanding for the formulation and implementation of time-bound and outcome-oriented programmes based on dialogue, cooperation and collaboration.
Likewise, Pradeep Gyawali, the minister for Foreign Affairs said that much needed to be done to manage foreign employment. The meeting, which started yesterday ended today with Kathmandu Declaration.