Surya Nepal, Siddhartha Shumsher highest taxpayers
November 17, 2018 | 9:56 pm&nbsp&nbsp&nbsp&nbsp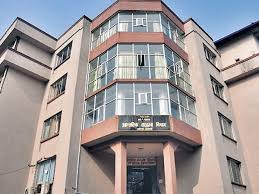 Kathmandu / Nov 17: The government has honoured the highest taxpayers under different categories on the occasion of the 7th National Tax Day on Saturday.
The highest taxpayers were honoured also to promote the taxpaying culture.
Finance Minister Dr Yuvraj Khatiwada honoured the taxpayers in various 15 categories amidst a program organized by the Inland Revenue Department.
The multinational company Surya Nepal was announced the highest taxpayer. Earlier too, the Surya Nepal was top taxpayer for two times.
Similarly, Siddhartha Shumsher was the top taxpayer under the individual category.
Shumsher is involved in hotel, trading and travel sectors. He has been honoured continuously for five years as the top taxpayer.
Others to follow the list are Dabur Nepal, Himal Power Ltd, Agriculture and Livestock Probiotic Industry, the Chhimek Cooperatives, Nabil Bank, Nepal Punarbeema (Re-Insurance) Company, Nobel Medical College, F1 Soft Information and Taragaon Regency Hotel.
Five best employees and others championing in different sports were awarded on the occasion.
'Non-payment of tax will block way towards prosperity' .
Addressing the programme, Finance Minister Dr Khatiwada said non-payment of tax would block the way towards prosperity. He urged one and all to pay tax as per their level of income, stressing on the need of raising awareness that even the lowest tax-payer is a respectable tax-payer.
The Finance Minister spoke of the need of going for voluntary payment of tax and urged the businesspersons to be sincere in paying tax. He stressed on collaboration for increasing the participation in tax and respecting each other.
Minister Khatiwada said the government is working to manage the taxation system. Attention has been focused on increasing the scope of tax rather than the tax rate, he added.
Finance Secretary Rajan Khanl said the government was carrying out home work on tax reform and that some changes have been visible in the last few years.
Federation of Nepalese Chambers of Commerce and Industry (FNCCI) president Bhawani Rana, Confederation of Nepalese Industries (CNI) chair Hari Bhakta Sharma and president of Nepal Chambers of Commerce Rajesh Kaji Shrestha drew the government's attention towards creating environment conducive to investment in the industrial sector by making industry-friendly taxation system.
They said the business community was ready to work together with the government regarding tax payment.
Speaking on behalf the tay-payers honoured on the occasion, Chief Executive Officer of NABIL Bank Anil Keshari Shah stressed on prompt payment of tax for fulfilling the goal of 'Prosperous Nepal, Happy Nepali'.
Director General of the Inland Revenue Department Bishnu Prasad Nepal said the Department was working with a focus on the government's economic policy and revenue mobilization policy. The Department is also working to raise the awareness of the tax-payers and has been providing various concessions to encourage the tax-payers to pay tax. RSS