KMC receives Friendship City award in China
November 17, 2018 | 9:56 pm&nbsp&nbsp&nbsp&nbsp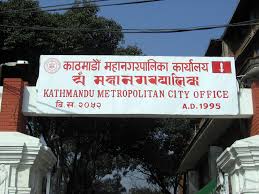 Kathmandu / Nov 17: The Kathmandu Metropolitan City has been awarded for 'Friendship City For Exchange and Cooperation with China,' in two days China International Friendship City Conference 2018 held on November 14 and 16.
KMC's Mayor Bidya Sundar Shakya and Deputy Mayor Hari Prabha Khadgi who had flown to China last week have returned to Kathmandu on Saturday bringing the award home.
The two days conference held with the title 'Sharing Development Opportunities and Deepening Win-Win Co-operation' was organised jointly by Chinese People's Association for Friendship with Foreign Countries (CPAFFC) and China International Friendship City Association (CIFCA) in Lhasa.
Earlier, the People's Government of Lhasa had nominated KMC for 'Outstanding Foreign Friendship city of Tibet Autonomous Region to compete for the awards' under CPAFFC and CIFCA category.
The conference was attended by 800 representatives from 60 international friendship cities and discussed how to build modern, international and eco-friendly cities to bring prosperity and development among the friendship cities.
Speaking to Journalists at the Tribhuvan International Airport, Shakya hailed his visit as meaningful. "This visit and the two days conference taught us many things. Now we are more concerned about how to implement these learning and model of developments in the city like ours," said Shakya.
KMC and the Chengdu City in China's Sichuan province had established a sister-city relationship in December 2016. KMC's former Chief Executive Officer Rudra Singh Tamang and Communist Party of China Secretary and former mayor of Chengdu Tang Liangzhi had signed the Memorandum of Understanding.
The establishment of a sister-city relationship with Chengdu was proposed during the visit of the then deputy prime minister and foreign minister Kamal Thapa in Chengdu in 2015.
The KMC has formal sister city relationships with five Chinese cities – Xi'an, Lhasa, Shenzhen, Lanzhou, and Chengdu – to facilitate tourism promotion, educational exchange, urban development planning, technological sharing, agricultural and medicinal technologies.
KMC has expanded its 15 sister cities in a half a dozen countries of the world such as United States of America, Japan, Belarus, Myanmar, Korea, and India. Courtesy: Ekantipur