TRC fails to deliver as expected: CPN leader Rawal;  Conflict-victims' grief has been alleviated: Pushpa Kamal Dahal
November 21, 2018 | 9:19 pm&nbsp&nbsp&nbsp&nbsp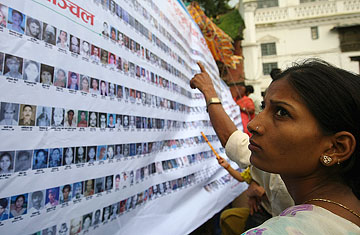 Kathmandu / Nov 21: Communist Party of Nepal leader Bhim Rawal on Wednesday admitted to the dismal performance of the Truth and Reconciliation Commission and the Commission on Investigation of Enforced Disappeared Persons.
"It is unfortunate that the Commissions have failed to deliver as expected even around a decade into the signing of the Comprehensive Peace Accord," he said at a face-to-face programme at Reporters Club Nepal in the Capital. He however took the work of arms management, election of the Constituent Assembly, the writing of the constitution and elections of all three levels as great achievements. "Now the country should pursue economic development."
He stressed the need for the government to build environment conducive for the Commissions to work without any hindrance.
On another note, leader Rawal said work was underway to give full shape to CPN's provincial, district and ward levels.
Conflict-victims' grief has been alleviated: Pushpa Kamal Dahal
Meanwhile, Nepal Communist Party's chairperson Pusha Kamal Dahal has claimed that the state of conflict-victims had improved compared to the past.
Addressing a press conference organized by Press Chautari and Press Centre Chitwan today, leader Dahal reiterated that the pain of the conflict victims has been reduced and their situation had improved.
Responding to the queries of journalists about the status quo of the conflict-victims, Dahal replied, "The pain of the conflict victims were not as it is. It has subdued by a large extent by now. We are seriously doing homework at the political and legal level to address their grievances."
It's been 12 years since the Comprehensive Peace Accord (CPA) was signed, officially ending the decade-long insurgency. Around 17,000 people both from the State and insurgents were killed during the insurgency.
Dahal has been a signatory to the CPA representing the then CPN-Maoist.
The former Prime Minister further said, "As for the aspiration of the Prime Minister, he has given a speech in the United Nations General Assembly and Costa Rica according to which the remaining works of peace process and repatriating the conflict-victims would be expedited. The works of Truth and Reconciliation Commission and Commission for Investigation on Enforced Disappeared Persons would be completed by the coming mid-July."
On a different query, Dahal said that the discussion on the expansion of Bharatpur Airport is being undertaken. RSS