Energy Minister Pun inaugurates Trishuli III hydro project
November 21, 2018 | 9:20 pm&nbsp&nbsp&nbsp&nbsp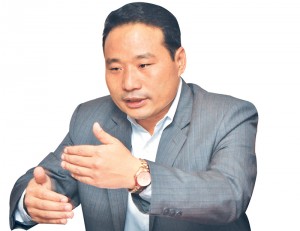 Rasuwa / Nov 22: Minister for Energy, Water Resources and Irrigation Barsha Man Pun has inaugurated Trishuli III hydro power project at Kispang rural municipality-5 in Nuwakot district on Wednesday.
The power developed in Rasuwa and Nuwakot will be supplied to Kathmandu Valley through the 220 KV transmission line. The company has planned to complete the construction within this current fiscal year.
According to sources, Nepal Electricity Authority (NEA) will invest Rs 19 million, European Investment Bank 30 million, the KFW, a German government-owned development bank 14 million and European Union will invest Rs 8.48 billion in the hydro project. It is learnt that EU and KFW will provide technical assistance for the project.
The power supplied through Chilime-Trishuli transmission line III B and Samudratar-Trishuli III B will be connected to this sub-station before being supplied to Kathmandu through a 40-km-long 220 KV two-way transmission line.
The power generated through 15 different hydro power projects developed in Nuwakot and half-a-dozen on the border between Nuwkot and Rasuwa will be connected to this transmission line.